The lights will be on, the gates open and the tailgates in full swing on Saturday night as the Kansas City Chiefs return to Arrowhead Stadium for the final time before these things start to count next month.
And as far as preseason football goes, this is about as real as it gets.
The plan is for the Chiefs' starters to potentially play into the third quarter when the San Francisco 49ers come to town this weekend, allotting the first-team units a chance to fine-tune everything with the regular-season opener just a few weeks away.
The third exhibition game is often called the "dress rehearsal" for the regular season, and while it's unlikely the Chiefs show much of the playbook on Saturday, it will still probably mark the most time the starters see the field this preseason.
"It just gets them in the flow. You get the one's against the one's and they kind of know what they're doing. They get good work in," Reid explained. "You need that - you just need to kick it up a notch. It's not as fast as what you're getting in the regular season, but you're cranking it up and it's the next step."
That slight uptick in intensity – not to mention the reality of facing an actual opponent – provides the ultimate testing ground when preparing for the 2019 campaign, and look no further than the Chiefs' collective comments over the course of this past week to see that fact in action.
Quarterback Patrick Mahomes, in particular, wasn't satisfied with where the starting offense was in last weekend's loss to the Pittsburgh Steelers and emphasized the importance of fixing the little things on Saturday.
"[I want us to be] a little bit more successful as an offense this next week, and that's not necessarily scoring points, but just moving the ball and not making as many mistakes as a whole," Mahomes said. "I feel like last week, we were off here and there on certain plays and when you aren't in that perfect sync, it makes you pay in the game."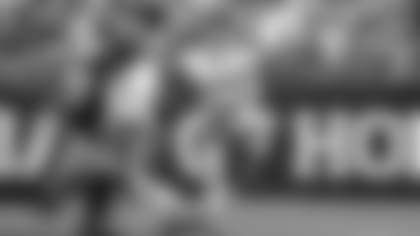 That loss to Pittsburgh was a strange one, as a rain delay interrupted pre-game warmups and pushed kickoff back about an hour, but even that provided a lesson of its own that Kansas City can utilize moving forward.
"By experiencing that schedule being pushed back and having to start over and hit the reset button a few times, I think it taught us something," said Offensive Coordinator Eric Bieniemy. "We have to make sure that we are living up to expectations by eliminating the distractions. Let's make sure that we stay focused and stay poised, and the rest will take care of itself. [This week], I'm anticipating that we come out and play hard and play focused together."
The game also represents an opportunity for young players such as wide receiver Mecole Hardman – the only player to find the end zone in each of the Chiefs' two previous preseason contests – and tailback Darwin Thompson, who has 103 yards of total offense and a score thus far, to continue their impressive debuts.
The same is true for the Chiefs' new-look defense, which showed flashes in last weekend's loss to Pittsburgh, but while sacks and takeaways will certainly be welcomed on Saturday, there is one particular thing that Defensive Coordinator Steve Spagnuolo will be looking for out of his group.
"If we can get all of [the starters] out there Saturday night, it'll be about chemistry and communication – how they react with each other," Spagnuolo said. "This may sound strange, but I'm always looking for an adverse situation in these games so that we can see how guys will react on the sidelines to some adversity. We've had a little bit of it, but not nearly what it will be like in the season. Hopefully, we get a little bit of that [on Saturday] and the guys can show they're willing to stick together, be accountable and move forward."
Improvement is the name of the game in the preseason, and the Chiefs are no exception. From the Chiefs' electric offense to a defense that has demonstrated a noticeable energy ever since Spagnuolo and newcomers such as defensive end Frank Clark and safety Tyrann Mathieu arrived, this is the time to make the little progressions that could lead to a big difference in the end.
The contest will likely mark the final preseason action for many of Kansas City's starters, and as wide receiver Sammy Watkins explained earlier this week, it's up to them to make it count.
"We have to keep getting better. We just have to continue to keep doing what coach wants us to do, keep detailing everything, be on the same page and not get complacent," Watkins said. "We have a lot of guys who can go out and make plays and run around and catch balls. We have to continue to hone in each week - every day - and focus on the now. We can't look ahead or focus on the playoffs or anything of that sort. Just focus on the now and continue to come to work every day."
Catch the Chiefs and 49ers on Saturday night at 7 p.m. on KCTV5 and 101.1 The Fox.