GAME TIME: 3:35 p.m. CT on Saturday, Jan. 12
LOCATION: Arrowhead Stadium in Kansas City, Mo.
HOW TO WATCH: NBC (KSHB local)
HOW TO LISTEN: 101.1 The Fox
Sixteen games and an unforgettable season later, here we are.
It's been an exciting journey to this point for the Kansas City Chiefs, from Tyreek Hill's season-opening punt return for a score to Patrick Mahomes' 50th touchdown pass of the year, and now it's finally time for some postseason football.
There were plenty of thrills – and a slew of broken records – along the way, but as the playoffs return to Kansas City on Saturday afternoon, the slate is wiped clean. The objective is simple: win three games – two of them being at Arrowhead Stadium – and bring home a title.
And, fittingly, it's an old postseason nemesis in the Indianapolis Colts that stand as the first obstacle in the way of that quest.
It was an interesting season for the Colts, who struggled to a 1-5 start before winning nine of their final 10 games. That stretch began with a Week 7 victory over Buffalo, and from that point on, Indianapolis posted the top scoring defense (16.4) and the fifth-best scoring offense (28.1) in the league.
It mirrors in many ways what the Chiefs did in 2015, as Kansas City won 10 consecutive games following a 1-5 start to that campaign. And, just like the Chiefs that year, the Colts continued their run of success with a victory over the Houston Texans on the road last weekend behind two touchdown passes from quarterback Andrew Luck.
It was a continuation of a stellar season for Luck, who will likely be named the NFL Comeback Player of the Year following the season after throwing 39 touchdown passes in 2018 – the second-most in the league to only Mahomes.
The veteran passer missed all of last year due to injury, but he's back and performing at as high a level as ever.
"It's great to have him back in the game and going. He's had a great year and you have to stay persistent with him. You have to bring your best against him and do the best you possibly can on every play," said Head Coach Andy Reid. "He's going to get you every once in a while, but you have to make sure that you get him more than he gets you."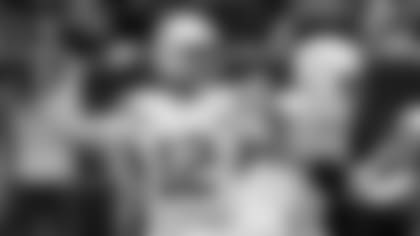 Luck's success this year was due in part to arguably the top offensive line in the league, which yielded an NFL-low 18 sacks on the season. That sets up a fascinating matchup on Saturday, as no other team got after the opposing quarterback more often than Kansas City's pass-rush.
"They're very good – one of the best that we'll face all year – but we'll be ready," said linebacker Dee Ford, who tallied 13.0 sacks this season. "We're up for that challenge. Everybody is good at this point in the year, so that's what we expect."
A contributing factor to Indianapolis' low sack totals has also been Luck's ability to get rid of the ball in a hurry. In fact, when Luck throws the ball within 2.5 seconds, he's tossed 26 touchdowns to just two picks on the year. Conversely, when Luck holds onto the ball beyond that threshold, he's thrown just 13 scores with 13 interceptions.
Additionally, that quick release helped the Colts tally the best third-down conversion rate in the NFL this season at 48.6 percent.
It all makes for an intriguing test on Saturday that will require a total defensive effort.
"It's like anything - we'll have our chances and we have to take advantage of them," said Defensive Coordinator Bob Sutton. "To really make it work, you have to be in sync totally. You have to have good coverage to maybe get that one little extra click [of time]."
In order to do that, the Chiefs will need to keep an eye on pass-catchers T.Y. Hilton and Eric Ebron, who combined for 44 percent of the Colts' receiving yardage on the year. Ebron, a former first-round pick of the Detroit Lions, put together a career-season with 13 touchdowns in 2018 while Hilton has long been one of the very best deep threats in the league.
"[Hilton] can run every route. He has speed and can make plays after the catch, too," said cornerback Kendall Fuller. "He has it all."
Tailback Marlon Mack has also been a reliable weapon for Indianapolis all year long, tallying 1,011 total yards from scrimmage. The 22-year-old Mack had 148 yards and a touchdown on the ground in last week's win over Houston, putting together the best statistical performance of his career.
In fact, in three of the Colts' last four games – victories over Houston, Tennessee and Dallas – Indianapolis has ran the ball at least 35 times. Mack and the rushing attack will certainly be something to watch on Saturday.
The Chiefs, meanwhile, come into this weekend's matchup intent on running their high-powered offense – the third-most prolific in NFL history – just as they have all year long. Kansas City became the only team in league history to tally at least 26 points in all 16 games of a regular season this past year, and they're not looking to slow down any time soon.
"It's single elimination. [There's] an intensity [there] and you have to go into it knowing that you have to put your best foot forward. We know that," Mahomes said. "At the same time, we're going to be ourselves, do what we've done all season long and try to execute at a high level."
That means distributing the ball to pass-catchers Tyreek Hill and Travis Kelce, who became the first pair of teammates in league history to each record 1,300+ receiving yards and 10+ touchdowns in a single year this season.
Kelce, in particular, thrived against predominantly zone-coverage teams such as the Colts this year with a team-leading 46 catches for 629 yards and four touchdowns, according to Pro Football Focus.
He has another opportunity to do some damage on Saturday as the Chiefs take the field intent on making their presence felt.
"We're excited," Kelce said. "We're going to go out there, be ourselves and show the world what we can do."
It won't be easy, as the Colts' defense – led by All-Pro rookie linebacker Darius Leonard – has yielded the sixth-fewest yards per game since Week 7, but there's no denying that there's simply something special about this edition of the Chiefs.
And this moment – and the opportunity that comes with it - is what they've been preparing for all season long. 
"I'm excited just to be here and to get the opportunity to go out there and win games like this. When you're growing up, you want to go and play games like this," Mahomes said. "When you get older, you want to be a professional athlete and you want to win on the biggest stage. For me, it's all about going out there, being myself, leaning on my teammates and winning a football game."
Mahomes and the Chiefs will look to do just that with an opportunity to play in the AFC Championship Game on the line.