The grills will be hot, the lights will be on and the atmosphere promises to be electric on Sunday night as the Kansas City Chiefs take the field at Arrowhead Stadium for a prime-time clash against an old nemesis in the Indianapolis Colts.
It marks just Kansas City's second game within the rambunctious confines of Arrowhead after a stretch of three road games through the first four weeks of the year, and with a national audience watching, the Chiefs return home this weekend with the intent of starting 5-0 for a third-straight season.
It was nine months ago that the Chiefs defeated Indianapolis in the Divisional Round of the postseason at Arrowhead, 31-13, but the re-match will be without a central figure from last year's bout following the sudden retirement of Pro Bowl quarterback Andrew Luck during the preseason.
Luck's departure left many wondering how competitive Indianapolis could be in 2019, but back-up-turned-starter Jacoby Brissett has impressed for the most part with his newfound opportunity.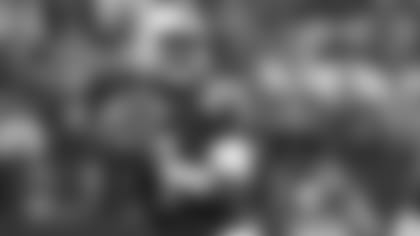 The fourth-year quarterback has thrown for 911 yards and 10 touchdowns so far on the season, which matches Chiefs' signal caller Patrick Mahomes for the most scoring strikes in the league. Remarkably, Brissett's scoring production and passer rating (102.1) are both higher than Luck posted through the first four games of any season since 2015. Furthermore, the 26-year-old Brissett is the only player in the NFL to toss multiple touchdowns in every game this year.
Luck's retirement was undoubtedly a shock, but Brissett can play.
"He can make all the throws and he can scramble," said Chiefs' cornerback Bashaud Breeland. "He came in and he's been doing exactly what they needed him to do. He takes care of the ball and he puts his team in a good position to make plays. He's just being the quarterback he needed to be with the situation that they're going through."
One of the key factors behind that success is the collective play of Indianapolis' offensive line, which is certainly one of the better groups in the league. In fact, left tackle Anthony Castonzo and left guard Quenton Nelson have yielded just two quarterback hurries combined this season.
Brissett's top option through the air is T.Y. Hilton, who leads the Colts in virtually every receiving category with 20 catches for 195 yards and four touchdowns despite missing last week's loss to Oakland due to a quad injury. In fact, that same injury limited Hilton in practice this week and has him listed as questionable heading into Sunday's matchup.
Indianapolis is simply a different team with Hilton on the field, so his availability will be something to keep an eye on prior to kickoff.
Tailback Marlon Mack, meanwhile, leads a Colts' rushing attack that has racked up the sixth-most yards (530) in the NFL. It's worth mentioning, however, that 70 percent of that production was tallied in the first two weeks as Indianapolis has managed less than 85 yards in each of their last two games.
Mack is also listed as questionable on a crowded Colts' injury report, making the inactives meeting that takes place 90 minutes prior to the game all the more interesting.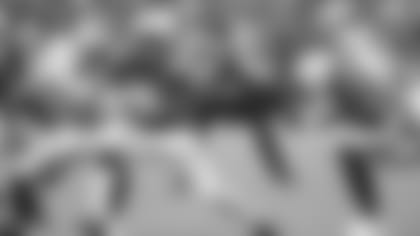 Speaking of game-time decisions, the Chiefs may be receiving some reinforcements on Sunday.
Tailback Damien Williams (knee) and cornerback Morris Claiborne (suspension) both returned to practice this week, but their respective availabilities are all still up in the air. Williams has missed each of the Chiefs' last two games while wide receiver Tyreek Hill, who also returned to practice this week but is already ruled out for Sunday, has missed the last three.
But as impactful as those players are, others have certainly stepped up in their stead.
The Chiefs are one of only three teams in the NFL to feature four or more players with 150+ yards receiving, and out of the backfield, veteran running back LeSean McCoy has averaged 7.0 yards-per-touch over Kansas City's last two games.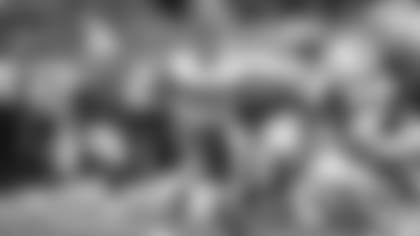 "It shows the guys are ready. The guys that aren't necessarily the starters are ready when their numbers are called, and it helps tremendously with the depth that we have with this team," Mahomes said. "We can just shuffle guys in and pick up where the last guy left off. Whenever teams try to take away certain guys from us, we're able to trust other guys to make plays, and that will help us out in the long run."
That trust was on full display last week when Mahomes led the Chiefs on a 13-play, 79-yard scoring drive to take the lead in Detroit with just 20 seconds left in regulation. The game-winning series included a critical fourth down play that Mahomes picked up with his legs, but as impressive as the play – and the drive overall – was, it was the 24-year-old signal caller's leadership that stood out amongst his teammates.
"It was fourth down, but he just looked at us with a smile on his face and it was time to roll," said guard Laurent Duvernay-Tardif. "It was an example of great leadership and you want to play for a guy like that."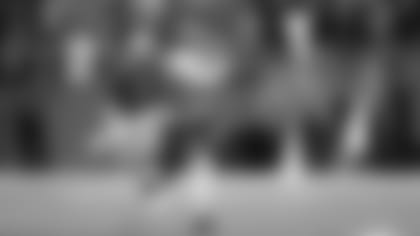 Mahomes and company will face a Colts' defense that has allowed at least 24 points in three of Indianapolis' four contests but still includes some playmakers such as former Chiefs' defensive end Justin Houston, who leads the Colts with 14 pressures, but will be without All-Pro linebacker Darius Leonard and safety Malik Hooker.
Those are some major losses in the second and third level of the Colts' defense, and regardless of who steps in to take their place, one thing the Chiefs can count on is the support of the crowd. Mahomes is 9-2 in his career at Arrowhead Stadium (including the playoffs), leading Kansas City to 32.2 points-per-game in those contests.
That record includes last year's victory over the Colts, and as the Chiefs' faithful file into Arrowhead on Sunday night, Mahomes will be looking for a similar result.
"Anytime you get to play at Arrowhead, it's exciting," Mahomes said. "From the experience I got these last few years in primetime games to see how the fans show up and are loud, it's an awesome feeling getting to go out there and play in front of those guys."
Catch the Chiefs and Colts on Sunday at 7:20 p.m. CT on NBC.