In a season chock full of thrills, this moment stood out amongst the rest.
It was 4th-and-9 with just over a minute left, and if the Kansas City Chiefs couldn't move the chains, the game was over. The Baltimore Ravens – led by rookie quarterback Lamar Jackson – had just taken the lead, and with their backs up against the wall, Kansas City needed somebody to make a play.
What came next was epic, plain and simple, as quarterback Patrick Mahomes found wide receiver Tyreek Hill on the run for a 48-yard gain. The Chiefs went on to tie things up – again on a fourth-down play, no less - before winning in overtime, sealing perhaps the most-exciting win of the year.
"That was probably my favorite [throw of the year] given the situation. [I just gave] the guys a chance, Tyreek made a great play on it and we ended up winning the game at home," Mahomes recalled earlier this week. "That pretty much gave us home-field advantage last year in the playoffs and everything like that. It was one of my favorite throws, if not my favorite, so far."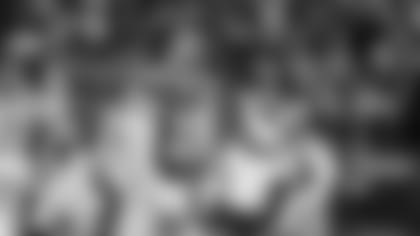 It was one of several plays that defined Mahomes' MVP season, and now nine months later, Jackson and the Ravens are back for a rematch.
Baltimore is undefeated through two games this season, and as the highest-scoring offense in the NFL at the moment, they've impressed mightily along the way.
The man central to that early success is undoubtedly Jackson, a dynamic player known for his running ability who has – at least so far – made significant strides as a passer in his second season as a professional.
Jackson rushed for 556 yards and four touchdowns during his seven starts in 2018 but completed just 58.2 percent of his passes while tossing five scores to three picks. The rushing ability is still certainly the key to his game a year later - with 126 yards already on 19 attempts - but through two games this season, Jackson is completing a whopping 71.9 percent of his passes and leads the NFL in passer rating (145.2).
He's already thrown two more touchdowns (7) in five fewer starts and has yet to turn the ball over, demonstrating the ability that made him the youngest player ever to win the Heisman Trophy in 2016.
"I liked him a lot coming out of college - I mentioned that back then. He's playing well and does a lot of things well," said Head Coach Andy Reid. "Everybody kind of goes to his run game, but he can throw the football. He's doing it with accuracy, and he does it from all different levels. Whether it's in the roll-out or in the pocket, he's got it down."
Jackson has flourished in the scheme designed by Offensive Coordinator Greg Roman – who was elevated to the position this offseason – and it doesn't hurt that the former first-round pick has a pair of dynamic young pass-catchers at his disposal in tight end Mark Andrews and wide receiver Marquise "Hollywood" Brown.
Those two players alone have accounted for 60 percent of Jackson's completions this season, with Andrews hauling in 16 grabs for 220 yards and two touchdowns while Brown – Baltimore's first-round pick in the draft last spring – already has 12 catches for 233 yards and a pair of scores.
Tailback Mark Ingram, meanwhile, is averaging 5.7 yards per rush thus far, combing with Jackson to form the league's-most productive rushing attack (447 yards) by a wide margin.
Each of those players – with Jackson in the middle commanding the offense – combines to present a strong task for the Chiefs' defense which, after yielding 10 quick points last Sunday, held the Raiders scoreless through the final three quarters of play.
"[That was] a confidence boost for us. You know, we don't think about last season. I think each and every week - especially in the NFL - you just try to get better at something, and I thought last week that we [did that]," said Chiefs' safety Tyrann Mathieu. "This week presents a whole new challenge for us - I think it's the first time we've played a quarterback with that kind of big-play ability like Lamar Jackson. He's going to test us a lot Sunday, but I think it's just important to get off the field and get the ball back to our offense…[because] they're going to use as much clock as they possibly can to keep Patrick off the field."
Mahomes, of course, is off to a stellar start in his second season as Kansas City's starting quarterback. The 24-year-old signal caller leads the NFL in passing yards (821) and yards per completion (14.9) while matching Jackson for the league-lead in passing touchdowns (7).
In fact, Sunday's matchup between Mahomes and Jackson will mark the first time in the Super Bowl Era that two quarterbacks who have completed 70 percent of their passes while throwing for 7+ touchdowns and no interceptions have met this early in a season.
And while the Chiefs' electric passing attack will once again be without Hill on Sunday, others have emerged in lieu of the All-Pro's absence. It was wide receiver Sammy Watkins in Week 1, who exploded for 198 yards and three touchdowns against Jacksonville. Fellow receiver Demarcus Robinson was then responsible for a monster game a week later, hauling in six catches for 172 yards and two scores.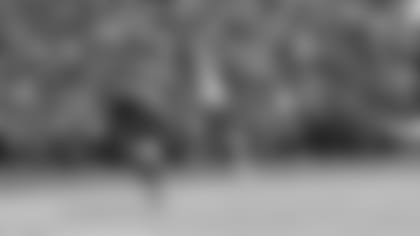 Mahomes will surely provide his pass-catchers with the opportunity to make some plays once again this week in what appears to be their toughest defensive matchup yet.
Baltimore is yielding less than two yards per rushing attempt this season and has tallied 43 quarterback pressures with their pass rush, ultimately surrendering just 27 total points in their two games.
It's a defense that includes some new faces - including All-Pro safety Earl Thomas – but has maintained its reputation as one of the league's better units amidst some turnover.
"Everyone does their job [on that defense], I think that's the biggest thing with that whole team. They're going to be sound and they're going to bring pressure, but there's not going to be breakdowns in coverages at the same time," Mahomes said. "They know what each guy's role is on the defense, so it may not be one guy they have rushing, but they have a lot of very, very good players that are going to do their jobs the right way and trust each other."
It's worth mentioning that the Chiefs will be attacking that defense without tailback Damien Williams and left tackle Eric Fisher in addition to Hill on Sunday, but when asked to speak specifically about Fisher's absence along the offensive line, the coaching staff emphasized the mentality that they've been preaching since Reid arrived in Kansas City seven years ago.
"It's next man up," said Offensive Coordinator Eric Bieniemy. "Injuries happen, but like I've said in the past, we coach our starters not to get beat by our backup players and we coach our backup players to make sure that they're preparing themselves to be starters. Those guys are ready."
And it certainly helps that the Chiefs will have the crowd behind them for the first time this season as Kansas City kicks off the home-slate at Arrowhead Stadium. The Chiefs are 13-3 in front of their home crowd since 2017, and if you ask Coach Reid, the advantage is all too real.
"I think it'll be crazy. I love it. The players feel it, which is important, and then the other team feels it. It's a great experience," Reid said. "For those that haven't come, you need to get a ticket and get to the game. It's unbelievable. We love it when the ground starts shaking there."
The ground will almost certainly be shaking on Sunday afternoon.
Catch the Chiefs and Ravens on Sunday at noon on CBS.