The Kansas City Chiefs return to Arrowhead Stadium this Sunday to take on the Jacksonville Jaguars at 12:00 p.m. CT. Here's everything you need to know if you're coming to the game.
National Anthem: Broadway Vocalist Trenyce Cobbins will perform our National Anthem
Color Guard: The Fort Leavenworth Sergeant Audie Murphy Club Color Guard
Flyover: Four AH-64E Apache Helicopters out of Fort Riley Military Base (weather permitting)
Coca-Cola Coin Toss Captain: Rynette Reiling-Minor
Game Ball Presentation: Ajiah Robinson
Blue KC First Pass: Dorothy Austin
Drum Ceremony Honoree: Former Chiefs' center Tim Grunhard
Halftime: A Crucial Catch Tribute featuring a performance by Trenyce Cobbins
7:30 a.m. – Ford Tailgate District Opens
9:30 a.m. – Scout Investments Club Level Opens (For Club Level Ticketed Guests Only).
10:00 a.m. – All Stadium Gates Open
Prepay: Fans are encouraged to prepay for parking to save money and time at the gate. Purchasing a pass in advance not only helps save time at the tollgates, but also provides you with the lowest parking price. Click here to purchase your single game parking pass in advance for $35 (Ticketmaster fees apply). On event days, parking is only available for purchase at the gate for $60 cash ($100 for a Bus/RV).
Arrive Early to park closest to the stadium. The parking lots open at 7:00 a.m. Guests that arrive later will be parked in the outer lots.
Mobile Ticketing: Don't forget to add your tickets and/or parking pass to your mobile wallet on your phone via the Chiefs Mobile App for expedited entry.
As a reminder, you are unable to print any tickets and/or parking for the game.
What's Going on at Arrowhead?
Crucial Catch Game: The Chiefs are committed to the fight against cancer. Now in its second year, the Crucial Catch platform addresses multiple types of cancer through early detection and risk reduction. The Chiefs have chosen to raise awareness for multiple cancers during Sunday's game and will have players, coaches and officials in apparel supporting multiple types of cancer, as well as additional on-field and in-stadium branding to help raise awareness for the campaign.
"I Cheer For" cards will be passed out at entry gates for fans to hold up at the end of the first quarter in honor of all that have been affected by cancer. Share a picture of you and your card with the Chiefs on social media by using hashtag #ChiefsvsCancer. Click here for more information on the Crucial Catch campaign.
Hometown Hero 1st Responder Honoree: The Chiefs will recognize Retired Senior Deputy Chief John Peterson as the Hometown Hero 1st Responder Honoree during the second quarter. An avid Chiefs' fan, Senior Deputy Chief Peterson has served his community as a firefighter, Technical Rescue Technician, Swift Water Rescue Technician, Company Officer and Chief Officer over 28 years of service.
Salute to Service Honoree: Colonel Gary Ridenhour will be recognized as the Chiefs' Salute to Service Honoree on Sunday during the third quarter. Colonel Ridenhour has been serving for 29 years following completion of the ROTC program at the University of Missouri. Most recently, he served as the liaison for the Combined Joint Task Force: Operation Inherent Resolve - the headquarters responsible for defeating ISIS in Iraq and Syria.
50/50 Raffle: The Hunt Family Foundation 50/50 Raffle will benefit The University of Kansas Cancer Center in alignment with the NFL's Crucial Catch campaign. Designated a National Cancer Institute representing excellence in cancer research, The University of Kansas Cancer Center offers patients opportunities to take part in clinical trials to test new treatments, access to the newest, most promising therapies and laboratory discoveries, and the ability to receive leading-edge care right here in the Kansas City metro area. Fans can purchase three tickets for $5, 10 tickets for $10 and 60 tickets for $20. For more information on The University of Kansas Cancer Center, click here, and for information on the Hunt Family Foundation 50/50 Raffle, click here.
Making its debut for the 2018 football season is the Ford Tailgate District, which will be open to all fans before home games. This party zone is free to enter and will feature drink specials, food trucks, games, and live entertainment until kickoff. Be sure to check it out during pregame on the north side of the stadium right in front of the Chiefs Pro Shop.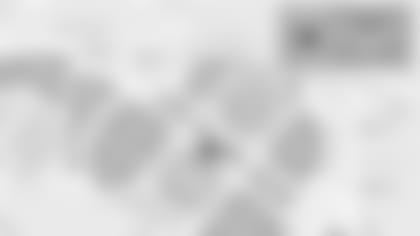 For the fifth year in a row, the Fellowship of Christian Athletes (FCA) will join with the Kansas City Chiefs to offer a non-denominational pregame chapel service for fans at Arrowhead Stadium who may miss their normal Sunday worship opportunities due to Chiefs games. The service, which is held in the east side of the Pavilion on the south side of Arrowhead Stadium, will take place every week there is a noon home game. Every service will feature a message and supplemental worship music beginning at 9:30 a.m. and concluding by 10:15 a.m. Sunday's service will be led by former Chiefs' player Andy Studebaker and music will be performed by Marvin Mumford.
STM Kickoff Countdown Tent
New to the 2018 regular season, the STM Kickoff Countdown hospitality tent is an exclusive area for Season Ticket Members on game day. Open beginning at 10 a.m. until kickoff, this ticketed event space offers Season Ticket Members complimentary hors d'oeuvres, beer, wine and non-alcoholic drinks. Located between Gate G and the Hy-Vee Gate on Plaza Level, the tent also features a DJ, photo booth, KC Wolf and Chiefs Cheerleaders, plus a STM-branded koozie giveaway. To secure STM Kickoff Countdown tickets, Season Ticket Members may click here or do so through the Chiefs Mobile App.
Be A Designated Driver: Visit a Fans First booth to sign up for the designated driver program. By committing to be a designated driver you are pledging that you are 21 years of age or older, you will not be drinking alcoholic beverages at the game and you will provide responsible transportation for your group. Click here for more information.
Chiefs Mobile App: Once connected to "Arrowhead Wi-Fi" enhance your game day experience with the Chiefs Mobile app featuring exclusive in-stadium access to NFL RedZone, live video feeds, video highlights, replays from every drive and much more. To download the Chiefs Mobile App, visit either the Apple App Store or  Google Play.
1. All fans will walk through metal detectors.
2. The Clear Bag Policy is in effect. Fans will be able to carry the following style and size bag, package, or container at stadium plaza areas, stadium gates, or when approaching queue lines of fans awaiting entry into the stadium:
-Bags that are clear plastic, vinyl or PVC and do not exceed 12" x 6" x 12".
-One-gallon clear zip-seal bag (Ziploc bag or similar).
-Small clutch bags that do not exceed 4.5" x 6.5", with or without a handle or strap, may be carried into the stadium along with one of the clear bag options.
-An exception will be made for medically necessary items after proper inspection at a gate designated for this purpose.
For more information on what items are permitted inside the stadium, click here.
Email: fanexperience@chiefs.com
Text: "Chiefs" "Your Location" and "Issue" to 69050
Visit: Any Fans First booth located throughout the stadium and in the parking lots.