The Kansas City Chiefs return to Arrowhead Stadium on Sunday afternoon to take on the Baltimore Ravens at 12:00 p.m. CT.
Here's everything you need to know if you're coming to the game.
National Anthem: Kansas City, Kansas Police Department Officer Dustin Dierenfeldt will perform our National Anthem as star flags are held on the field by 60 Kansas City-area first responders
Color Guard: The colors will be presented by a joint color guard consisting of representatives from the Kansas City Police Department (KCPD), Kansas City Fire Department (KCFD), Kansas City, Kansas Police Department (KCKPD) and Kansas City, Kansas Fire Department (KCKFD)
Coca-Cola Coin Toss Captain: Cole Forney
Game Ball Presentation: Nickels Dizmang and Joshua Eckstein
Blue KC First Pass: Sergeant Dan Justus
Drum Ceremony Honoree: Clint Bowyer, Monster Energy NASCAR Cup Series Driver, will be Sunday's Drum Ceremony Honoree
Halftime: KCPD Detective Alex Lepper will perform a tribute to America's first responders by singing "America The Beautiful." The star flags will again be held by Kansas City-area first responders for the entirety of the performance
7:30 a.m. – Ford Tailgate District Opens
9:30 a.m. – Scout Investments Club Level Opens (For Club Level Ticketed Guests Only).
10:00 a.m. – All Stadium Gates Open
Prepay: Fans are encouraged to prepay for parking to save money and time at the gate. Purchasing a pass in advance not only helps save time at the tollgates, but also provides you with the lowest parking price. Click here to purchase your single game parking pass in advance for $35 (Ticketmaster fees apply). On event days, parking is only available for purchase at the gate for $60 cash ($100 for a Bus/RV).
Arrive Early to park closest to the stadium. The parking lots open at 7:00 a.m. Guests that arrive later will be parked in the outer lots.
Mobile Ticketing: Don't forget to add your tickets and/or parking pass to your mobile wallet on your phone via the Chiefs Mobile App for expedited entry.
As a reminder, you are unable to print any tickets and/or parking for the game.
What's Going on at Arrowhead?
First Responder Appreciation: The Chiefs have a proud tradition of supporting our first responders and will host the annual first responder appreciation game at Arrowhead on Sunday afternoon, beginning with several pre-game elements featuring local responders participating in the presentation of the colors and the singing of the National Anthem. Sunday's halftime performance will feature KCPD Detective Alex Lepper singing "America The Beautiful," and during breaks in game action, Overland Park Police Department (OPPD) Officer Brian Payne and former New York Presbyterian Hospital Paramedic Mike Roberts will be honored as hometown heroes.
Payne, an 11-year veteran of the OPPD, is the Wing First Sergeant for the 190th Air Refueling Wing of the Kansas Air National Guard out of Topeka, Kansas. Roberts was on one of the many units that provided support during the events of September 11, 2001, in New York City.
Chiefs Kingdom Food Drive: The Chiefs and Hy-Vee kicked off the annual Chiefs Kingdom Food Drive on Tuesday, Nov. 27 at Harvesters - The Community Food Network. As guests arrive at Arrowhead on Sunday, they will be greeted by volunteers from Hy-Vee and Harvesters with collection bins around the stadium to collect non-perishable food items. Fans wishing to make a monetary donation can do so at chiefs.harvestersvfd.org. Last year, the Chiefs were able to provide 294,051 meals to those in need, setting the record for the largest food drive of its kind in the NFL.
For more information on the Chiefs Kingdom Food Drive, click here.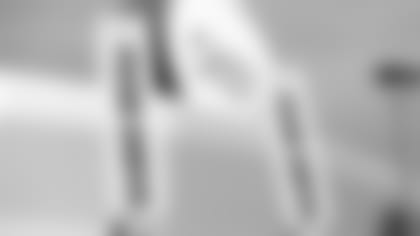 My Cause, My Cleats: More than 800 NFL players will showcase causes that are important to them with custom cleats during games in Weeks 13-15, with 18 members of the Chiefs participating on Sunday. As part of the collaboration with the NFL, players will represent hundreds of organizations that focus on causes important to them. Among the causes represented by the Chiefs are Team Luke (Patrick Mahomes), The V Foundation (Sammy Watkins), 87 & Running (Travis Kelce), Allen Bailey Charities (Allen Bailey), TeamSmile (Dustin Colquitt) and more.
For more on what the Chiefs will be wearing on Sunday, click here.
50/50 Raffle: The Hunt Family Foundation 50/50 Raffle will benefit Harvesters – The Community Food Network on Sunday. Harvesters is a regional food bank serving a 26-county area of northwestern Missouri and northeastern Kansas, providing food and related household products to more than 620 not-for-profit agencies including emergency food pantries, community kitchens, homeless shelters, children's homes and others. Fans can purchase three tickets for $5, 10 tickets for $10 and 60 tickets for $20. For more information on Harvesters, click here, and for information on the Hunt Family Foundation 50/50 Raffle, click here.
Hometown Heroes: Officer Brian Payne and Mike Roberts will be honored in the second and third quarter, respectively, on Sunday.
DiPardo Spirit Leader: Officer Anthony Perez will be the DiPardo Spirit Leader in the fourth quarter.
The Ford Tailgate District is open to all fans before home games. This party zone is free to enter and features drink specials, food trucks, games, and live entertainment until kickoff. Be sure to check it out during pregame on the north side of the stadium right in front of the Chiefs Pro Shop.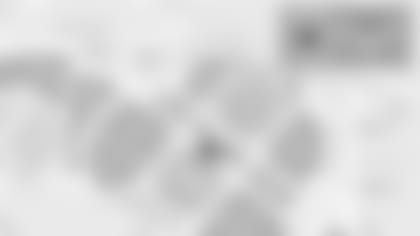 For the fifth year in a row, the Fellowship of Christian Athletes (FCA) has joined with the Kansas City Chiefs to offer a non-denominational pregame chapel service for fans at Arrowhead Stadium who may miss their normal Sunday worship opportunities due to Chiefs' games. The service, which is held on the east side of the Pavilion on the south side of Arrowhead Stadium, takes place every week that there is a noon home game. Every service features a message and supplemental worship beginning at 10 a.m. and concluding by 10:45 a.m.
Be A Designated Driver: Visit a Fans First booth to sign up for the designated driver program. By committing to be a designated driver, you are pledging that you are 21 years of age or older, you will not be drinking alcoholic beverages at the game and you will provide responsible transportation for your group. Click here for more information.
Chiefs Mobile App: Once connected to "Arrowhead Wi-Fi" enhance your game day experience with the Chiefs Mobile app featuring exclusive in-stadium access to NFL RedZone, live video feeds, video highlights, replays from every drive and much more. To download the Chiefs Mobile App, visit either the Apple App Store or Google Play.
1. All fans will walk through metal detectors.
2. The Clear Bag Policy is in effect. Fans will be able to carry the following style and size bag, package, or container at stadium plaza areas, stadium gates, or when approaching queue lines of fans awaiting entry into the stadium:
-Bags that are clear plastic, vinyl or PVC and do not exceed 12" x 6" x 12".
-One-gallon clear zip-seal bag (Ziploc bag or similar).
-Small clutch bags that do not exceed 4.5" x 6.5", with or without a handle or strap, may be carried into the stadium along with one of the clear bag options.
-An exception will be made for medically necessary items after proper inspection.
-Backpacks of any kind (including clear plastic) are not permitted. 
For more information on what items are permitted inside the stadium, click here.
Text: "Chiefs" "Your Location" and "Issue" to 69050
Visit: Any Fans First booth located throughout the stadium and in the parking lots.