The Kansas City Chiefs made another addition to their defense on Wednesday, signing free agent outside linebacker Jeremiah "Jerry" Attaochu.
Here are five things to know about the newest member of Kansas City's defense.
1. He spent last season with the New York Jets
Attaochu played in 11 games for New York last season, tallying five quarterback hits, 2.0 sacks and a forced fumble. He recorded 12 pressures on the year according to the folks at Pro Football Focus.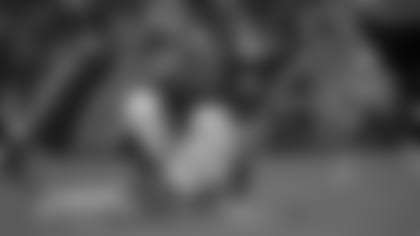 The six-foot-three, 250-pound Attaochu put together his top performance of the year in Week 9 at Miami, notching three quarterback hits and a sack, before suffering a season-ending concussion a few weeks later. 
It's worth noting that Attaochu played outside linebacker in New York's 3-4 defensive alignment last season, but he also has experience as both an outside linebacker and a defensive end in a 4-3 scheme, which is what the Chiefs' new defensive staff will deploy in 2019. It remains to be seen how Kansas City will utilize Attaochu, but he mentioned last year that he sees himself as a hybrid linebacker-defensive end.
2. Before joining the Jets, Attaochu played four seasons for the Chargers
The Chargers traded up to select Attaochu with the No. 50 overall selection in the 2014 NFL Draft. He was the fifth outside linebacker taken that year.
Attaochu went on to play four years in southern California, appearing in 38 games (13 starts) with 75 tackles (62 solo), 23 quarterback hits, 19 tackles-for-loss, 10.0 sacks and two forced fumbles. His best season was in 2015, when he tallied 48 pressures, 15 tackles-for-loss and 6.0 sacks in 15 games (12 starts).
Those 48 pressures ranked 28th in the league among edge-rushers, according to Pro Football Focus, but he did more than just get after the passer that season. Attaochu also graded as the 12th-best edge-rusher in coverage and the 18th-best in run-defense, finishing the season as PFF's 25th-overall edge player.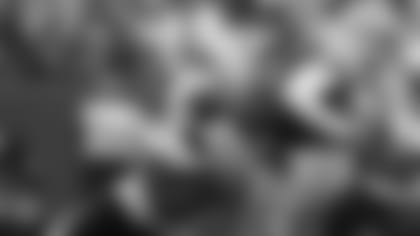 Injuries limited Attaochu's ability to get on the field the following two seasons, however, leading to his eventual departure from Los Angeles prior to the 2018 campaign.
3. Attaochu played his college ball at Georgia Tech
Attaochu was a four-year player for the Yellow Jackets from 2010-13 and put together quite the career, earning Third-Team All-American honors as a senior after finishing sixth in the nation in sacks (12.5).
His 31.5 career sacks are the most in school history, while his 43.5 tackles-for-loss rank sixth.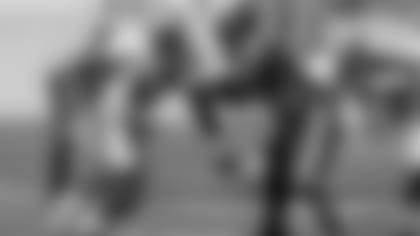 Attaochu racked up that production from a variety of spots in college, lining up as both an outside linebacker and a defensive end. He discussed that versatility with the Atlanta Journal-Constitution during his senior year.
"I feel like [I'm] both [positions]. I still do both. No team plays only one front these days, so sometimes I stand up and drop into pass coverage, sometimes I'll put my hand down and slant and do all those things. I just feel like both. I feel like I'm a better player because of it."
Attaochu will recognize at least one familiar face in the Chiefs' locker room, as he was teammates with kicker Harrison Butker for one year at Georgia Tech in 2013.
4. He's originally from Nigeria
Attaochu was born in Ibadan, Nigeria before moving to the United States with his family as a kid. In fact, his heritage cultivated a childhood dream of playing soccer – not football – until a coach spotted his imposing frame in the ninth grade.
"In high school, I wanted to play soccer," Attaochu _told Campus Insiders back in 2013_. "I went in for a sports physical – all the sports were there – and the freshman football coach saw me. He asked if I wanted to try playing football, and I said OK. I had thought about it before, so I just thought, 'Hey, let's give it a try.' I couldn't even wear the pads at first, but I just kept playing and I got better."
Indeed, Attaochu kept improving to the tune of a three-star ranking by the folks at Rivals. He eventually decided on Georgia Tech, and the rest is history.
5. He started a foundation to empower those with Sickle Cell Disease
Attaochu's non-profit organization, Glory's Hope Foundation, seeks to educate, support, develop, train and mentor young people with Sickle Cell Disease – both in the United States and Africa - in order to help them live a fruitful life.