Kansas City Chiefs President Mark Donovan met with the media prior to the 56th annual Chiefs Kickoff Luncheon on Friday morning. Here are five things that stood out.
1. The Chiefs are committed to creating value for Season Ticket Members
As the ticketing landscape continually changes, the Chiefs are dedicated to providing a truly unique experience for Season Ticket Members that goes beyond just a seat on game day.
Donovan discussed that priority at length on Friday.
"What we focused on when talking with our Season Ticket Members is value and exclusivity," Donovan said. "[We're] trying to make sure that we deliver more value and more exclusive opportunities to those Season Ticket Members - who are part of our team. We call them members for a reason."
"I'm really proud of the business side of our team. They have done more this season to create more opportunities for interaction with our Season Ticket Members and deliver value to those Season Ticket Members than we ever have," Donovan said. "We've been doing a lot of work in the offseason to create those opportunities - those exclusive opportunities for Season Ticket Members. They're giving us really good feedback that they see it, they feel it and they appreciate it."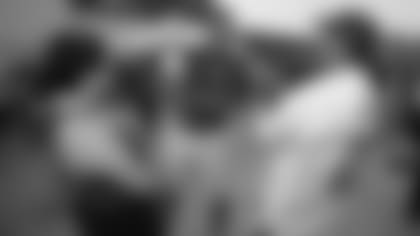 2. The Bud Light Game Day Pass has been popular in its second year
For fans not quite ready to become Season Ticket Members, the Bud Light Game Day Pass exists as a strong alternative. For just $200, fans secure the same upper-level seat to every home game and – if purchased in a pair – a $10 concession credit for every game.
"The Bud Light Game Day Pass was really designed for folks who aren't season ticket members currently and who are looking for more digital, on my phone, ready to go [tickets], [in addition to] looking for more value," Donovan said. "So, we took seats at the top of the stadium and made it a very low price point. It's digital only, so it is delivered the day of the game and it's nontransferable."
To learn more about Bud Light Game Day Pass, click here.
3. The brand-new Ford Tailgate District is open to all fans
Arrowhead Stadium is synonymous with a rich tailgating tradition, but it's an experience that many fans often miss out on for a number of reasons.
The Ford Tailgate District aims to change that.
"A lot of fans are coming to the game – a lot of [fans coming via] ride share and a lot of [those from the] younger generation are coming out – and they don't really tailgate the way some of our core fans do," Donovan said. "So, they are looking for more ways to interact, and we created for them - and for the broader fanbase - the Ford Tailgate District. This year, in Lot M, right between the two stadiums, we are throwing our own tailgate that is open to everyone. It gives those fans who are coming in an Uber, a Lyft, or a Z-trip with a ticket on their phone [a chance to] not to worry about the setup, not worry about the cleanup and still be able to interact with other fans and have a tailgate."
The area features games, live music and $5 beer up until kickoff prior to every home game this season.
4. Fans are tuning in to the preseason broadcasts
There's a certain energy surrounding the team this season – and the Chiefs have noticed it in tangible ways.
"We are definitely feeling it, just in attention - in local, regional and national attention. I think one of things you can look at for real measurable impact is television ratings. We've had two preseason games, and the first game that Patrick (Mahomes) played was the highest-rated game in about eight or nine years - it did 24.8," Donovan explained. "Game two in Atlanta did a 17, which is much higher than last year - up almost 30 percent over last year's game two. When you look at that average of 21, that's [among the] tops in the league."
Much of that excitement has to do with Mahomes – Kansas City's dynamic young quarterback who is embarking on his first campaign as the Chiefs' starter – but it's also about getting a first look at a team that's aiming for a third-straight AFC West championship.
"People want to see this team play," Donovan added. "They want to see Patrick play, obviously because of the position, but I think it just speaks to the excitement around this team, the excitement of bringing all these guys together and our fans wanting to see what the Chiefs are going to be this year. This game against Chicago, you're going to see the starters play three quarters, so we're excited to see that."
5. ESPN Analyst Todd McShay will join the preseason broadcast on Saturday afternoon
Speaking of the Chiefs' preseason broadcasts, there will be a special guest in the booth on Saturday afternoon when Kansas City takes on the Chicago Bears as ESPN analyst Todd McShay will provide his expert opinion throughout the contest.
"I think people know this, but we actually produce these games. The Chiefs 65TPT [video production] team produces the games during the preseason, and we took a lot of time this offseason to say, 'How can we do it differently? What can we learn from the networks?'" Donovan said. "We really have taken an aggressive approach there, and it will come to fruition tomorrow with a three-man booth with Todd McShay joining Andrew Catalon and Trent Green."
McShay, who is one of ESPN's top experts on the NFL Draft, can lend a unique perspective on the dozens of young players taking the field on Saturday.
"We looked at preseason football and said, 'How can we make it more interesting for the fans?' One way you can do that is to bring in a guy who knows more than anybody about every single guy on the field, especially in games three and four, which are the two games Todd will work for us," Donovan said. "We are excited to see what sort of insights he provides on some of these guys."
Catch the action on Saturday at 12 p.m. CT on KCTV5.