The 2022 NFL Draft is less than two months away, and with the annual Scouting Combine now in the books, the hype and excitement surrounding this year's event is about to heat up as draft weekend inches closer by the day.
Over the next several weeks, we're going to take a look at some position groups in this year's class while examining a handful of names to know. Let's start with one of the deepest groups in this particular draft: wide receiver.
Chiefs' Receivers Under Contract for the 2022 Season: Tyreek Hill, Mecole Hardman, Daurice Fountain, Gehrig Dieter, Josh Gordon, Cornell Powell, Mathew Sexton, Omar Bayless, Chris Finke, Gary Jennings and Justin Watson.
Five Names to Know
Depending on where you look, the various experts from around the web have identified a handful of receivers who could potentially go in the first round. Here's a look at several of those players, including where they currently rank among their peers according to the pundits.
Drake London – USC
Measurables: 6-foot-5, 210 pounds
Snapshot: A former high school basketball star, London was a dominant force in the Trojans' offense over the last several years as a classic "possession" type receiver. He was in the midst of a monster campaign this past year, hauling in 88 catches for 1,084 yards and seven touchdowns in just eight starts, before an ankle injury ended his season early.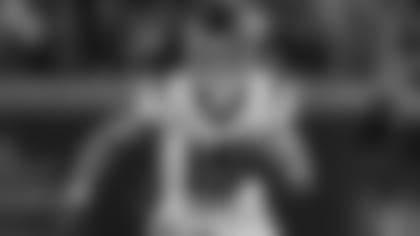 PFF Analysis: "London is the prototypical possession receiver. He will command double-teams on third down at the next level because of how many ways he can win. Teams that use receivers heavily as blockers in the run game will covet him."
PFF Comparison: Brandon Marshall
Jeremiah's Analysis: "London is a jumbo-sized wideout with a rare catch radius and outstanding toughness. He has lined up outside and in the slot. He doesn't have ideal speed, but he's very quick off the line and at the top of his route. He is a nuanced route runner, and it's impressive to see how quickly he can get in and out of breaks at his size (6-5, 210). He dominates on 50/50 balls, making spectacular grabs (SEE: Colorado game). London understands how to use his big body to shield off defenders before attacking the ball. After the catch, he seeks out contact and fights for extra yards. He plays with an edge as a blocker, as well. Overall, some will have concern with his lack of top speed, but he reminds me of Mike Williams coming out of Clemson."
Garrett Wilson – Ohio State
Measurables: 6-foot-0, 192 pounds
Snapshot: One of the top weapons in all of college football, Wilson caught 70 passes for 1,058 yards and 12 touchdowns in 2021. A dynamic and explosive athlete, he often did his best work after the catch.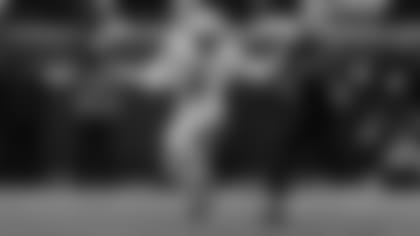 PFF Analysis: "Wilson will likely have to start his career in the slot or as the 'Z receiver' in an offense. Given a free release, he's the best in the class at manipulating defenders in space."
PFF Comparison: Diontae Johnson
Jeremiah's Analysis: "Wilson is a highly competitive wideout with route polish and excellent run-after-catch ability. He doesn't have elite speed, but gets to his top speed very quickly in the route. He is very crisp at the top of routes, creating a lot of separation. The Ohio State product makes several plays above the rim and really plays much bigger than his size (6 foot, 188 pounds). He does have a few concentration drops, but I believe that is correctable. Wilson is at his best after the catch, as he can make defenders miss, power through tackles or utilize a stiff arm. I love his competitive nature. Overall, Wilson has a complete skill set and reminds me of Stefon Diggs."
Post-Combine ESPN Analysis: "Wilson answered every question that existed from his game tape when he turned in a 4.38 40-yard dash time," wrote analyst Matt Miller. "Wilson's route running and his ability after the catch already placed him in the running for WR1, but with a jaw-dropping run in the 40, he has a legitimate chance to be the first receiver off the board."
Jameson Williams – Alabama
Measurables: 6-foot-2, 189 pounds
Snapshot: Williams was one of the top deep threats in all of college football last season, tallying 11 touchdowns of 30+ yards (and four scores of 70+ yards) in 2021. His 1,572 receiving yards were the third-most in a single season in Crimson Tide history, trailing only DeVonta Smith and Amari Cooper. Williams tore his ACL in the National Championship Game, so his status as a potential value selection could be something to watch.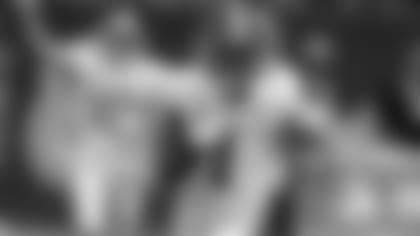 PFF Analysis: "Williams is still not your true 'X' receiver you can trust to win possession routes. He's your vertical-route specialist who can also take screens, jet sweeps, etc."
PFF Comparison: Taller DeSean Jackson
Jeremiah's Analysis: "Williams is a tall, lean and explosive wideout. Everything he does on the field is sudden and fast. He explodes off the line in his release; just when you think he's reached top speed, he taps into a gear that very few possess. He turns quick-hitters into long touchdowns and climbs on top of coverage in every game viewed. He is at his best on runaway routes, but flashes the ability to efficiently get in and out of breaks. His hands are inconsistent, though. He lets too many balls get into his body and that results in drops. After the catch, Williams destroys pursuit angles with his speed. His production as a gunner on the punt team speaks to his competitiveness. He suffered a torn ACL in the College Football Playoff National Championship, but once healthy, Williams could emerge as one of the premier deep threats in the NFL."
Chris Olave – Ohio State
Measurables: 6-foot-1, 188 pounds
Snapshot: Ohio State's all-time leader in touchdown receptions, Olave hauled in 65 receptions for 936 yards and 13 touchdowns in 2021 while earning Second-Team All-American honors.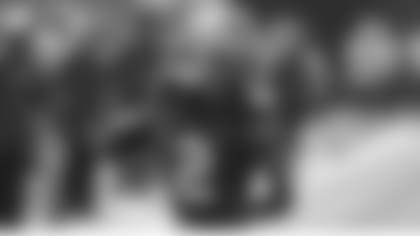 PFF Analysis: "Olave is your prototypical No. 2 receiver. He's not a do-it-all guy, but he's adept enough downfield that defenses can't leave him one-on-one."
PFF Comparison: Calvin Ridley
Jeremiah's Analysis: "Olave has average height and a lean/wiry frame for the position. He is a very smooth mover and has terrific speed. Against press coverage, he relies on his foot quickness to win, but he does get caught and re-routed on occasion. He needs to add upper-body strength. He is an excellent route runner -- fluid in and out of breaks -- and creates a lot of separation. Olave is at his best in the vertical passing game. He can find another gear when the ball is in the air, tracking it naturally, and he can finish consistently. He displays burst after the catch, while lacking the strength to pull through tackles. Overall, Olave needs to get stronger, but he's a home-run hitter with outstanding route polish."
Post-Combine ESPN Analysis: "A strong argument could be made that Olave had the best workout of any wide receiver outside of Skyy Moore," wrote analyst Jordan Reid. "With plenty of speed to burn, he showed off his downfield capabilities, and his ability to track the ball is what makes him so dangerous. He displayed fluidity in and out of breaks during intermediate routes and showed that he's not just a third-level threat. A 4.39 time in the 40 was the highlight of his workout, but Olave exhibited why he's projected to be a first-round pick. He helped himself a lot after a strong workout."
Treylon Burks – Arkansas
Measurables: 6-foot-3, 225 pounds
Snapshot: Burks is unique in that he has the size of a "possession" type receiver but also has impressive speed to go along with it. In fact, Burks reached a speed of more than 22 miles-per-hour during a catch-and-run in Week 3. Overall, that combination led to a school-record six 100-yard games for Arkansas last season.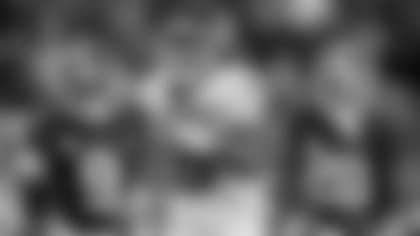 PFF Analysis: "While he played slot in college, you're drafting Burks highly to be the guy who can win outside one-on-one and where it matters most: downfield and in the red zone. Big slot is his fallback position."
PFF Comparison: Donte Moncrief
Jeremiah's Analysis: "Burks is a big (6-3, 225), physical wideout with outstanding run-after-catch ability. He was used in a variety of alignments in the Razorbacks' offense -- outside, in the slot, at running back and as a Wildcat QB. He caught a lot of bubbles, slants and flat routes. Arkansas liked to get the ball in his hands as soon as possible to let him display his speed and physicality after the catch. He wasn't asked to run a full complement of routes, but he's a fluid athlete and should be able to do more at the next level. He likes to cradle-catch balls on his frame, which leads to some drops, but he flashes the ability to high point and finish. Burks will need some time to develop, but he has A.J. Brown-type upside."
Two More Names to Know:
Jahan Dotson – Penn State
Measurables: 5-foot-11, 184 pounds
Snapshot: Dotson caught 91 passes for 1,182 yards and 12 touchdowns last season while also contributing as a punt returner. His 23 career receiving touchdowns are the third-most in school history.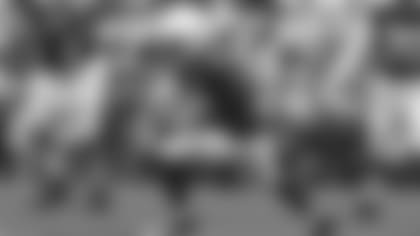 PFF Analysis: "Dotson is really tailor-made to play slot in today's NFL. He's as shifty as it gets with enough speed to challenge vertically. But, more importantly, he has a massive catch radius for a player listed at only 5-foot-11."
PFF Comparison: Kendall Wright
Jeremiah's Analysis: "Dotson is a slightly undersized wideout (5-11, 184) with outstanding quickness, deep speed and hands. He is a very fluid, loose route runner with the ability to accelerate in and out of breaks. He tracks the ball beautifully down the field and has another gear if needed. He attacks the ball and makes some outstanding catches away from his frame. After the catch, Dotson has the speed to pull away and makes defenders miss tackles with his elusiveness. He doesn't have the strength to break tackles consistently. His overall play strength is the only real concern with his transition to the next level, but he has the ability to produce both outside and in the slot. Dotson is ready to make an immediate impact for his drafting team."
Post-Combine ESPN Analysis: "I came away impressed with Penn State wide receiver Jahan Dotson," wrote analyst Jordan Reid. "He reminds me a lot of Emmanuel Sanders, with a similar build, strong hands and a wide catch radius. Dotson projects best as a high-end No. 2 receiver who can be a solid complement to a top option."
George Pickens – Georgia
Measurables: 6-foot-3, 200 pounds
Snapshot: Pickens led the Bulldogs in touchdown grabs (8) in 2020 before tearing his ACL during spring practices last year. Remarkably, he managed to make it back in time for the College Football Playoff this past season and made an impact, catching a 52-yard pass in the National Championship Game.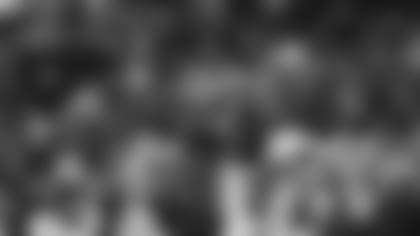 PFF Analysis: "Pickens looked like a shoo-in to be a WR1 in the NFL after his freshman season. He certainly has the size to stick on the outside in the NFL. That ability hasn't gone anywhere, but it comes with far more questions now."
PFF Comparison: Kenny Golladay
Post-Combine ESPN Analysis: "Welcome back, George Pickens! The Georgia receiver crashed back onto the scene during the Bulldogs' national title run following an ACL tear," wrote ESPN analyst Matt Miller. "He did his part on the field during the season and then put an exclamation point on his scouting report with a 4.47 40 time. That's moving for the 6-foot-3, 195-pounder."