The Kansas City Chiefs added a playmaker on Friday night, selecting Western Michigan wide receiver Skyy Moore with the No. 54 overall pick.
Here are five things to know about the newest member of the offense.
1. Moore put together a monster season for Western Michigan in 2021.
Moore hauled in 95 receptions for 1,292 yards and 10 touchdowns last season in 12 games, ranking ninth in the FBS in catches. He spent time both outside (265) and in the slot (140 snaps) while becoming one of only five players in the FBS to average at least 7.9 catches-per-game in 2021. Additionally, Moore was one of only four players with 95+ catches, 1,200+ yards and 10+ scores.
He checks in at 5-foot-10, 195 pounds and had the largest hands of any receiver at the NFL Scouting Combine. The folks at Pro Football Focus compared him to Julian Edelman.
2. He possesses elite shiftiness and some special movement skills.
Moore is at his best when showing off his ridiculous elusiveness. He broke the most tackles of any receiver in the FBS last season (26), and according to PFF, he possesses "couldn't touch him in a phone booth" kind of agility. They went on to describe that agility as perhaps the best in the entire class:
"In a class with some seriously shifty wideouts, Moore would be my bet to win if they all played tag. He's not only shifty, but he's also so strong he's unaffected by an outstretched arm."
3. Moore is as sure-handed as they come.
When the ball is thrown Moore's way, he often pulls it in. In fact, Moore was credited with only three drops despite being targeted a whopping 125 times last season. Here's what The Athletic's Dane Brugler had to say about Moore's reliability:
"Moore creates leverage with his foot quickness and is extremely reliable at the catch point thanks to his large, sticky hands and quick-reaction ball skills."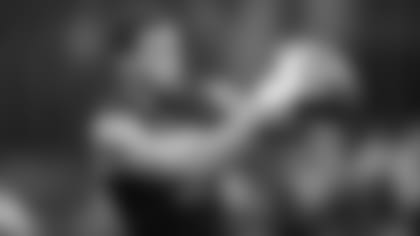 4. He's a former cornerback who made the move to wide receiver early at Western Michigan.
Moore, who grew up in the Pittsburgh area, was a quarterback and cornerback in high school. He was prolific under center, too, racking up 1,000+ passing yards and 1,000+ rushing yards in consecutive seasons.
He was recruited as a defensive back to Western Michigan, but he made the switch to wide receiver shortly after enrolling. It turned out to be smart move.
5. He competes with a big-time chip on his shoulder.
Moore has fought for every opportunity that he's earned throughout his career. He was the No. 217 overall cornerback in the 2019 recruiting class, largely receiving attention from FCS schools despite a terrific high school career. He's continually proven doubters wrong, and it's part of what's fueled his success. Dane Brugler mentioned as much in his pre-draft analysis:
"He competes with a massive chip on his shoulder, both on and off the field."
Now a member of the Chiefs, he has a chance to keep proving the doubters wrong on one of the top squads in the NFL.