From the very beginning, this was all about family for Mike Sipes.
Family was behind Sipes' adoption of the Kansas City Chiefs as a nine-year-old kid – an act of friendly defiance toward his father, an avid Oakland Raiders' fan - and led to memories of watching the likes of Derrick Thomas and Deron Cherry with his grandma.
Family was the only constant in Sipes' life while he was stationed thousands of miles away at Pearl Harbor, an ocean away from all he had ever known except for - of course - when a few familiar faces would arrive every year for the Pro Bowl. Sipes was at several of those games and even had a chance to meet the likes of Trent Green, Dante Hall and many more.
Sipes' family was by his side when he reenlisted on the 50-yard line at Arrowhead Stadium in 2007 and again when he reenlisted at training camp in 2014.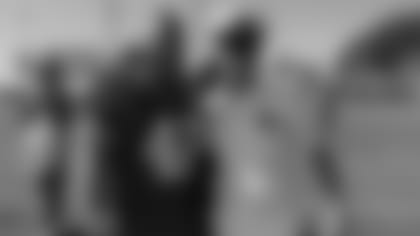 And, of course, family was the reason behind Sipes' decision to become a Season Ticket Member despite not even living in Kansas City at the time.
After all, Sipes' relationship with the red and gold is about sharing it with those close to him. The Chiefs are a common interest, a reminder of home and a rock amidst the unpredictable nature of life.
The franchise is part of who he is, and by being a STM, that passion is repaid with unforgettable opportunities worthy of his unwavering love for this football team – from exclusive benefits to meeting the players themselves.
Those perks and many more are all made possible through the Chiefs Kingdom Rewards (CKR) program and the exclusive benefits it offers to STMs.
"As a kid that grew up just north of Kansas City, I could have never fathomed having a chance to meet these guys. It just wasn't in the cards for me as a kid," Sipes said. "For me to be able to take my kids to these events and to do the things that I've done with them…there's nothing better than those moments."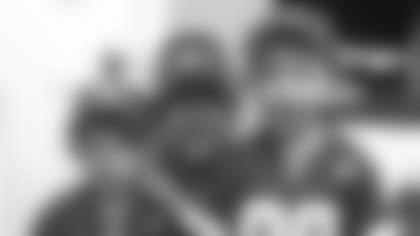 The CKR program is free for anyone to join, but STMs are allotted special opportunities to take full advantage of being a fan.
For Sipes, those prizes have included access to the VIP autograph area at training camp, a chance for his sons to walk up the hill in St. Joseph alongside a player as part of the "Helmet Walk," a place on the field during the flag ceremony prior to kickoff, experiencing the Locker Room Club and winning signed memorabilia.
It's all provided Sipes and his family with the experience of a lifetime.
"Because I was in the military for so long, I was stationed all over the place and have friends that are fans of every team. They see the pictures of us at training camp and at things like Tony Gonzalez's Ring of Honor ceremony," Sipes said. "It's just a really cool thing when fans of other teams are calling you to say how awesome it is that the Chiefs do this."
In fact, one memory – a trip to the VIP autograph area at training camp - stands out amongst the rest.
"I love doing that one because my kids can just go down there and roam – I don't have to worry about a large crowd," Sipes said. "I remember one day watching one of my sons banter back and forth with [punter] Dustin Colquitt. My son was like five, but he knew who Dustin was and they were talking about how hard he kicked the ball. To me, it's those moments that make everything worth it. There's nothing like watching my kids experience a moment of pure joy."
The opportunities speak for themselves, but at their core, those moments are about so much more than just the autographs and photos to Sipes. It's about family – as it always has been – and by being a STM, he's able to spend time with his sons in a way that they'll never forget.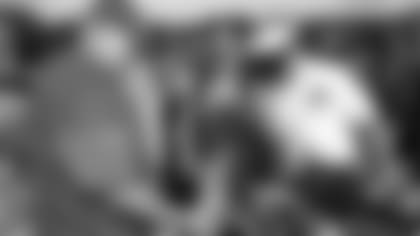 "I'm making memories with my kids that I couldn't have even dreamt of when I was growing up," Sipes said. "My kids don't understand just how lucky they've been yet, but I can't wait until that day when they're older and they can look back on when they met this guy or that guy knew their name. I think it's those moments that make you a fan for life."
To learn more about becoming a Season Ticket Member, click here, and for more information on how to join Chiefs Kingdom Rewards for free, click here.