A photograph can be powerful.
It has the ability to capture the raw emotion of a singular moment – whether that be the thrill of a Super Bowl victory or a fan simply experiencing their first game at Arrowhead Stadium.
We're exploring some of those moments from the 2019 season over the next several weeks along with commentary from Chiefs' photographer Steve Sanders.
Sanders hand selected each of the photos we'll feature in this series as his personal favorites, covering everything from the dramatic to the hilarious.
We'll continue with No. 7.
"Celebration and Heartache"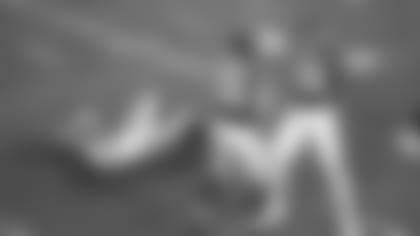 Game: Super Bowl LIV, Chiefs vs. 49ers
The Subject: Chiefs' defensive end Frank Clark and linebacker Ben Niemann celebrate as 49ers' quarterback Jimmy Garoppolo puts his hands on his face following a big play late in the game.
Camera Model: Canon EOS-1D X Mark II
Q: What do you recall about this moment?
Sanders: "This was taken by Ben Green, our seasonal photographer this year, and it was taken from an upper stadium position. There's so much going on here. Ben Niemann had just come through the line and rushed Garoppolo's pass, hitting him hard to cause a bad throw. Garoppolo's hands are in front of his face and you can tell he just got hit. Then you have Frank Clark celebrating with Ben and demonstrating the excitement of the game. This was a huge moment and it helped solidify that we were going to win this game."
Q: How does this photo show two very distinct sides of a situation?
Sanders: "This speaks to our excitement and the 49ers' disbelief of what has happened in the last eight minutes. To go from 10 points down to 11 up in such a short amount of time shows that you can never doubt your ability to come back and win."
Q: As a mentor, how proud were you of Ben that he captured this photo?
Sanders: "I'm so proud of Ben. He did a great job this season. He came to us a little late – he wasn't here for the first part of the season – but he grew as a photographer and as a person while he was here learning his craft. He's going to go on and do great things."