A photograph can be a powerful thing.
It has the ability to capture the raw emotion of a singular moment – whether that be a game-winning touchdown or a fan experiencing their first trip to Arrowhead Stadium.
We began exploring some of those moments from the 2018 season last month and will continue to do so over the next several weeks along with commentary from Chiefs' photographer Steve Sanders.
Sanders, who has been on the job for over 20 seasons, hand selected each of the photos we'll feature over the next two months as his personal favorites.
Here's a look back at what we've covered so far:
We'll continue with No. 6: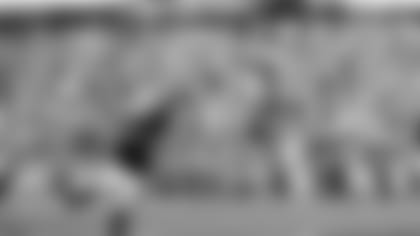 Location: Oakland-Alameda Coliseum in Oakland, California  
The subject: Chiefs' tight end Travis Kelce leaps in the air and snatches a third-down pass late in a close game against the Oakland Raiders. 
On why he chose to include it in this collection: "The play in this photo led to a touchdown," Sanders said. "Travis Kelce caught the ball at the high point and this really captures the peak of the action. Matt had to react quick and change his focus from looking at the quarterback to Travis coming across the middle to make this catch. I also like this because it shows how many Chiefs' fans traveled to the game. You can see all those spots of red in the stands."
On the best aspects of the photo: "The picture itself is technically perfect. It's sharp, eyes are up, the ball is in play and the guy making the play is in a good position," Sanders said. "It's just one of our better action pictures. The action ones are a lot harder to get than the editorial-style pictures, so we like to feature those when we can."
Check back next week for another one of Sanders' top moments from 2018.