The spotlight may shine brightest on Sundays, but it's on Friday nights that young football players learn the fundamentals of America's most popular sport. It's where the love of the game is born – from high school football all the way down to youth leagues – and it's why the Kansas City Chiefs and The University of Kansas Health System are committed to equipping local coaches and administrators with the proper tools to succeed.
That commitment was put into action for a third-consecutive year last week as Chiefs' Vice President of Sports Medicine & Performance Rick Burkholder, Head Orthopedic Surgeon Dr. Paul Schroeppel, Equipment Director Allen Wright and Strength & Conditioning Coach Barry Rubin met with dozens of local youth coaches following practice to share their expertise.
"They care about their athletes and they've taken the time out of their day to sit here and talk to some of the people who are fortunate enough to work at the highest level," Burkholder said. "For them to be able to talk to Allen Wright, Barry Rubin or Paul Schroeppel - there's valuable information being exchanged there between people that wouldn't normally get to meet. We're all about community and they are the community."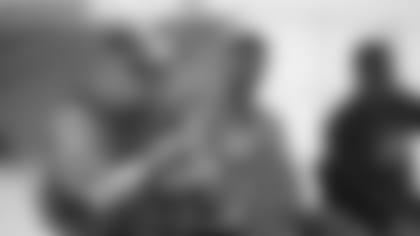 Voice of the Chiefs Mitch Holthus moderated the panel as each of the four experts in attendance had a chance to discuss their respective fields. For example, Wright discussed the importance of picking the right helmet while Rubin emphasized playing multiple sports rather than focusing solely on football.
It was simply a one-stop shop for youth coaches eager to improve their programs.
"I think it's a great opportunity for guys from multiple backgrounds to come together and discuss how we go about injury prevention, how we treat injury recovery and – potentially - what things we can take down to the middle and high school levels," Dr. Schroeppel said. "I'm a firm believer that [young people] make up the athlete group where we have the most opportunity to prevent injury, both in making sure movement patterns are correct but also making sure that they're playing the game of football correctly."
Representatives from 13 high schools and 14 middle schools attended the clinic, all of which were invited to ask questions of their own following the initial remarks. Here were coaches from all over the metro – De Soto to Blue Valley – directly asking professionals at the highest level for their advice.
"It's the heart and soul of our game," Burkholder said. "I love football – I love it at all levels. I'm in the NFL and I love games on Sundays, but we really want kids to have a healthy and safe experience playing in high school. That's why it's worth it to me to spend an hour or two with the high school coaches. I actually just talked to somebody about going out to their high school to speak – I'm all for it. I'll do whatever I can to promote the game because it's a game that builds men. I love the game, but I love what it does for the men that come through the game."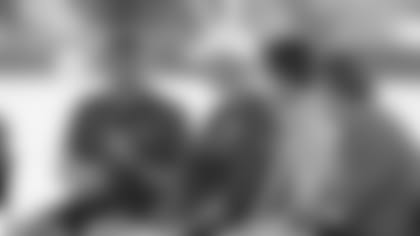 And that desire to improve the game extends beyond just last week's clinic. Any athlete can make an appointment to see Dr. Schroeppel or any of The University of Kansas Health System's other physicians at the Sports Medicine & Performance Center located adjacent to the Chiefs' training complex. Additionally, The University of Kansas Health System just opened a new location at 125th and Antioch in Overland Park. These centers offer top-tier comprehensive services to athletes of all ages and are available to the public.
The resources are all there, and as last week's panel demonstrated, they're being utilized to make the game better for everybody.
"I think it's really cool that they've taken the time and that they respect our game enough that they want to learn everything they can from us," Burkholder said. "Ironically, they can teach us a lot, too."
To learn more about the Sports Medicine and Performance Center at One Arrowhead Drive, click here.