More than a dozen individuals braved a chilly afternoon at Arrowhead Stadium on Friday blanketed by the good news that was coming their way.
It was the culmination of a season-long effort that raised $60,000 online – exceeding the original goal by $10,000 – that was then matched by Fisher for a grand total of $120,000 and split evenly between the three organizations on Friday.
Fisher simply wanted to make a difference for a cause close to him, but he ended up raising more than he could have ever expected.
"I was going to match up to $50,000, but once we hit $60,000, I decided that I'd match that," Fisher said. "These are all awesome organizations and each of them will go home with $40,000. They're just doing great work in the community by keeping pets safe out there, and we're really excited."
The project, coined "Fishin' for a Mission," began when Fisher approached Scott Poore, who has dedicated his life to helping local animals, with the goal of identifying causes in need.
"There are a lot of outreach groups – like the ones that we're working with today – that have people who go outside when it's freezing cold and they're looking to help animals. They rescue a lot of animals, but they don't always have the funds to do it," Poore explained. "Eric and I agreed that we'd help these three fantastic groups and at first, we were nervous. We didn't know if we were going to hit our goal – this is our first time doing this – but it's been a huge success."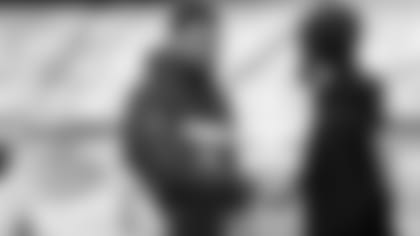 That success was measurable as the weeks went on and the donations came rolling in.
"It was fun. At first it's just like, 'OK, are we going to hit this goal?' Then it just took off after a few weeks," Fisher said. "It was really fun watching it grow and seeing people's reactions like, 'Hey, this is working.' It was just a great experience."
"Eric is truly passionate about this," Poore added. "Anybody that's in his position could just write a check and sit back, but that's not who he is. He was with me all the way through and actually went out and delivered dog houses with me when it was freezing cold. That's just an example of how much he cares and he's so proud that we reached our goal."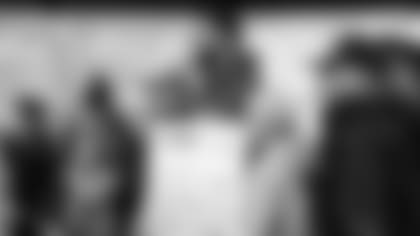 That desire to make a difference – along with an idea and the ability to make it happen – provided each organization on Friday with the means to help local animals that they may have been able to care for otherwise.
"I think every guy in the locker room has a passion, and this just happens to be mine," Fisher said. "I've always been an animal lover, I always had dogs growing up and it's just what's in my heart. It's how I think I can give back."
Representatives from Chain of Hope, The Rescue Project and Spay and Neuter Kansas City, came to Arrowhead to meet Chiefs' offensive tackle and pet lover Eric Fisher, who came prepared to assist a cause that he cares dearly about. It was the culmination of a season-long effort that raised $60,000 online – exceeding the original goal by $10,000 – that was then matched by Fisher for a grand total of $120,000 and split evenly between the three organizations on Friday