They devote their lives to protecting those that they've never met, selflessly stepping forward to defend all that we hold dear in this country.
These individuals don't join the service for recognition or fame, it's just simply what they feel called to do, forgoing personal ambition in the private sector to become a part of something much larger than themselves.
They're the brave few who make up our Armed Forces, and some of the nation's very best are stationed right here in Chiefs Kingdom.
The Chiefs have a rich history of supporting our men and women in uniform throughout the years, and that tradition continues this season through the "Tribute to the Troops" program at GEHA Field at Arrowhead Stadium, which recognizes the real heroes in our community during every home game.
That initiative continues on Sunday, as TSgt George Baylon will be recognized as the "Tribute to the Troops" honoree presented by Crown Royal during the Chiefs' matchup with the Tennessee Titans.
An 11-year veteran of the Air Force, Baylon originally joined at the age of 19 for the simplest of reasons: he wanted to serve his country.
"I wanted to be a part of something bigger than myself, plus I also wanted to learn some new skills," Baylon said. "Two of my brothers were also in the military – one was a Marine and one was in the Navy – so, for me, the Air Force was something different."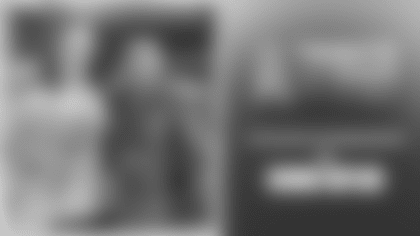 A mechanic by trade, Baylon then spent the next decade working his way up the ladder. He now oversees a crew of 15 people that manages the equipment needed for the Air Force to be successful. That responsibility includes everything from helmets and masks to night-vision googles and flotation devices. Simply put, Baylon and his staff ensure that those going into combat are as prepared as possible.
It's a critical job, and one that has sent Baylon all over the world. In fact, during his 11 years of service, Baylon has been sent to Afghanistan, the Indian Ocean island of Diego Garcia and Qatar.
"It was definitely a culture shock, especially Afghanistan," Baylon said. "It's not my job to go into combat, but there were still mortars going off around us from time to time. It was scary, and it's hard being away from family, but you're doing something for your country."
Baylon's story is akin to so many others in our Armed Forces, as he didn't join the Air Force with grand visions of heroism or glory. Baylon stepped forward because he wanted to do his part in service of our nation, and it's why the Belton native and lifelong Chiefs' fan will be honored in front of thousands on Sunday night.
"It's going to be a once in a lifetime experience," Baylon said. "My family and friends will be able to see it, and it'll just be something that we'll never forget."