Fans have been flocking in droves to Kansas City Chiefs training camp over the last several days to see this year's edition of the team in person, and as the first morning practice kicked off on Sunday, the front office ensured that Chiefs Kingdom was well-fed.
It was all part of the annual Season Ticket Member Pancake Breakfast, which provided fans with the opportunity to meet Chiefs Chairman & CEO Clark Hunt, President Mark Donovan and General Manager Brett Veach over a hearty meal before heading to practice.
Thousands took advantage of the opportunity, and as always, the event was a hit.
"Our Season Ticket Members are so important to the Kansas City Chiefs – they're really the lifeblood of the organization – and this morning is always so special because we get our Season Ticket Members out here to not only watch practice, but to have a lot of fun here at training camp," Hunt said. "I enjoy getting to talk to them, hearing where they're from and hearing their stories of being a Season Ticket Member across many decades."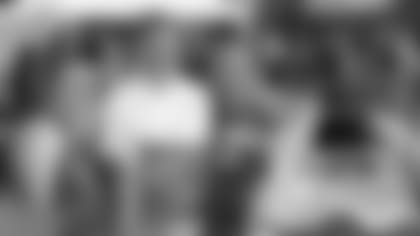 Indeed, there were attendees from seemingly every walk of life. There were those that have been Season Ticket Members for 30 years and others who just signed up for the very first time this offseason.
"This is my first year as a Season Ticket Member, so I was really excited to come up here for some breakfast," said Brad Spiegel, a Season Ticket Member attending the event. "It just shows that they care about the fans and the people who invest in their team."
Donovan and Veach even got behind the griddle for much of the event, flipping pancakes onto fans' plates in what has become one of the breakfast's traditions.
"The first three are difficult because you're not sure how the spatula is going to react, but I only hit the ceiling once," Donovan said jokingly. "Interacting with our fans is always fun and enjoyable - you get to shake hands and talk to people about their favorite players - and this is just a different way of interacting."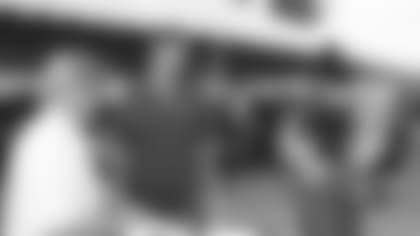 And that interaction went beyond just breakfast and the Season Ticket Member-branded car flags that attendees received as they entered. For Hunt, Donovan and Veach, it was about personally thanking those that make this franchise a reality. In fact, Veach made a point of singling out the immense energy permeating from the stands at camp and mentioned how it helps the team on the field.
"Any chance you get to meet with the fans, it's special," Veach said. "We're very lucky and fortunate to have such a great fanbase, and look, camp is long. It's very tiresome, and the one thing that always gets us through it is having that fan energy pick us up when we're down."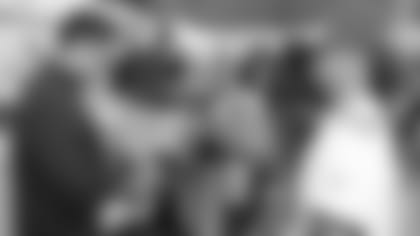 And there are even more opportunities on the horizon, as Season Ticket Members are invited to the STM Tailgate following practice on Aug. 4.
This has all the makings of a special season, and from exclusive perks to events like the Pancake Breakfast, being a Chiefs' Season Ticket Member elevates the fan experience to an entirely new level.
To become a Season Ticket Member or to take advantage of all the benefits of being a Chiefs STM, click here, or call or text 888-99-CHIEFS (24433).
The Kansas City Chiefs celebrated its Season Ticket Members with a pancake breakfast before practice, and team autographs after.