Things have gone pretty well through three weeks for the Kansas City Chiefs.
Quarterback Patrick Mahomes is leading the NFL in nearly every passing statistic, the offense is already breaking records and, most importantly, the record is a perfect 3-0.
The Chiefs are one of just three teams in the AFC without a loss so far – marking their third-straight season with an unblemished record through three weeks – and they'll be looking to make it 4-0 this Sunday with a bout against the Detroit Lions at Ford Field.
It's been four years since Kansas City last took the field against the Lions, doing so across the pond at Wembley Stadium in London. The Chiefs were struggling headed into that game as losers of five straight, but interestingly enough - following a 35-point victory - no team has won more games than the Chiefs (46) league-wide since that game.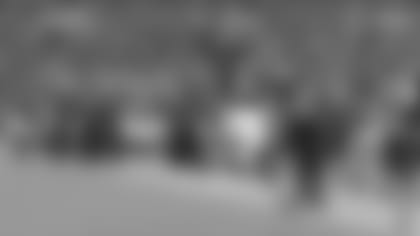 Kansas City will look to keep that unprecedented run of success going on Sunday against a Lions' team that has also yet to lose this season, with victories over the Los Angeles Chargers and Philadelphia Eagles to go along with a tie in Week 1 against the Arizona Cardinals.
The man commanding the offense through each of those contests has been veteran quarterback Matthew Stafford, who has spent over a decade in the Motor City after the Lions made the University of Georgia product the first overall pick in the draft back in 2009.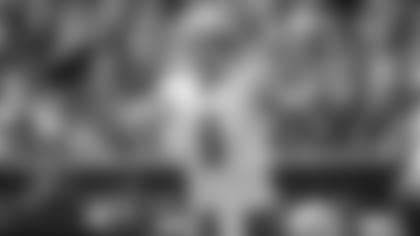 Stafford owns a 97.5 passer rating this season, tossing six touchdowns to two interceptions while leading a fourth-quarter comeback in each of the Lions' last two games. The passing totals aren't quite as high over the last couple years as they used to be – he ranked second in the NFL in passing yards between 2011 and 2017 - but Stafford is still more than capable of executing an offense at a high level.
"He has 11 years of experience and he's a heck of a player," said Head Coach Andy Reid. "He was a really good player coming out of college and he's worked through all of the different things that have happened there. He has a great head coach and offensive coordinator now, and he's playing good football."
It's worth mentioning that Stafford was a late addition to the injury report (hip) on Friday and is listed as questionable heading into Sunday's contest. His status will be a major storyline to watch prior to the game as the next man up on Detroit's depth chart is rookie signal caller David Blough, who has yet to appear in an NFL game.
Regardless, whoever suits up at quarterback will have pass-catchers Marvin Jones Jr. (15 catches for 200 yards and 1 touchdown), Kenny Golladay (14 catches for 176 yards and 2 touchdowns) and T.J. Hockenson (8 catches for 139 yards and 1 touchdown) at their disposal with second-year tailback Kerryon Johnson – who averaged 5.4 yards per rush just a year ago – handling the bulk of the carries on the ground.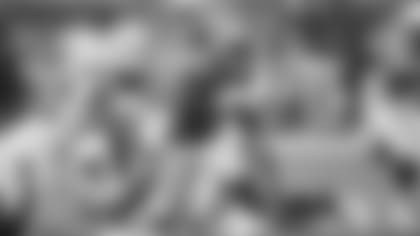 The Lions also feature veteran wide receiver Danny Amendola on offense (11 catches for 141 yards and 1 touchdown), but his availability is in question as he battles a chest injury.
It's an offense that has some playmakers, but perhaps the Lions' most significant contributor of late has been the collective performance of the offensive line, which hasn't yielded a sack in either of Detroit's last two games.
It's a streak the Chiefs' pass-rush will be looking to end on Sunday after sacking Baltimore Ravens' quarterback Lamar Jackson three times last week with contributions from defensive end Frank Clark, defensive tackle Chris Jones and defensive end Emmanuel Ogbah among others.
Ogbah, in particular, was central to that success, tallying nine pressures all by himself while continuing what's been a strong start to his first season in Kansas City.
"I'd say this about Emmanuel: all he's done is come in here and do everything that we've asked him to do to the best of his ability," said Run Game Coordinator/Defensive Line Coach Brendan Daly. "He showed a little bit of toughness by battling through some injury issues during the training camp portion of things that came up from time-to-time. I thought that he did a great job handling them, but it affected his performance to a degree. I think he's through some of that now and we're seeing a little bit closer to what his physical tools and abilities are."
Ogbah and the rest of the Chiefs' defense will look to slow down the Lions' attack and get the ball back in the hands of Mahomes and company, who have collectively been settling the league ablaze offensively.
Mahomes currently leads the NFL in passing yards (1,195), touchdowns (10), yards-per-attempt (10.5) and passer rating (134.9) without turning the ball over once. In fact, with 363 yards through the air on Sunday, Mahomes could set the all-time record for passing yards through the first four games of a season.
That may sound like a lot, but amazingly, Mahomes hasn't thrown for less than 370 yards in any game this season while distributing the ball to pass-catchers Sammy Watkins (311 yards), Travis Kelce (284 yards), Demarcus Robinson (215 yards) and Mecole Hardman (158 yards).
The Chiefs are the only team in the league to feature four or more players with 150+ receiving yards this season, and they've all combined to haul in a league-leading 14 passing plays of 25+ yards.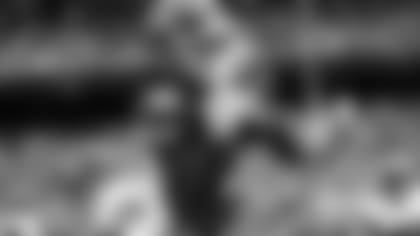 That group will be going against a Detroit defense that ranks in the middle of the pack so far this season (20.3 points allowed per game) but has excelled in seizing opportunities, especially in last week's victory over Philadelphia.
"They played physical football, they played a lot of man coverage, they got up in [the quarterback's] face and they stopped the run game for the most part," Mahomes said. "I think the biggest thing they did against the Eagles was that they capitalized on turnovers and I think that's a big thing they focus on, trying to get the ball out - whether its interceptions or stripping the ball - so we're going to try to protect the ball and move it down the field."
The Lions have forced four turnovers in the last two weeks, and in last Sunday's victory, the points they tallied off those takeaways ended up being the difference in the game.
Detroit could be without a key member of that defense, however, in cornerback Darius Slay, who is dealing with a hamstring injury and is questionable for the contest. Slay is one of the better defensive backs in the NFL and is undoubtedly the Lions' top player in the secondary, so his status will be a major one to keep an eye on this weekend.
Kansas City is dealing with some injuries of their own, too, as wide receiver Tyreek Hill (shoulder), offensive tackle Eric Fisher (groin) and tailback Damien Williams (knee) will all miss the game due to various issues, but others have stepped up in a big way in their stead.
The coaching staff repeatedly preaches the "next man up" mentality when starters can't play, and it was on full display last week as second-year tailback Darrel Williams racked up 109 yards of offense while picking up the game-clinching first down.
Williams' performance may have surprised the football-watching world outside of One Arrowhead Drive, but not those inside the building.
"We felt comfortable about him coming out of last year. He had some really good snaps for us last year and he had a good camp and kind of retooled his body a little bit," Reid said. "He got himself ready for this season and now he has an opportunity to reap the rewards of all the hard work he's put in."
Williams will likely get some more chances on Sunday alongside fellow tailback LeSean McCoy as Kansas City looks to maintain their perfect record in Detroit.
Catch the Chiefs and Lions on Sunday at noon on FOX.