One down, three more to go.
The Kansas City Chiefs kicked off the preseason with a victory last Saturday, handily defeating the Cincinnati Bengals at Arrowhead Stadium. It marked a major step in the Chiefs' march toward the 2019 regular season, as Kansas City finally took the field against an opponent in preparation for the upcoming campaign.
Players up and down the roster impressed in that game, from quarterback Patrick Mahomes and the starting offense scoring on their lone possession to rookie tailback Darwin Thompson tallying 51 yards of total offense on six touches.
It wasn't quite the real thing just yet, but it was still exciting nonetheless, and the Chiefs will be back at it on Saturday night in Pittsburgh to take on the Steelers in the second week of preseason action.
The Chiefs' latest memory in Pittsburgh is undoubtedly a fond one, as Mahomes matched a franchise-record with six touchdown passes as part of Kansas City's first victory over the Steelers on the road since 1986 last season.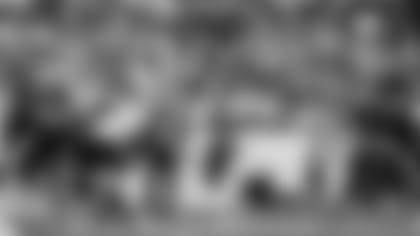 This contest won't carry the stakes of that matchup, but it will provide the Chiefs with another opportunity to improve with the regular season just two weeks away. Mahomes and company will play somewhere around the first half, according to Head Coach Andy Reid, allotting Kansas City's starting unit a shot at some live competition.
"I just want to be successful at moving the ball down the field," Mahomes explained. "It's not so much about throwing touchdowns or going out there and getting the big play - it's just about positive gains, moving the ball the right way, and, hopefully, that turns into points."
Mahomes completed 4-of-4 passes for 66 yards in last week's victory, connecting with tight end Travis Kelce on a 36-yard completion down the left sideline on Kansas City's first offensive play. It marked Kelce's lone snap of the game, but it only fueled the excitement surrounding this team heading into 2019.
Kelce will likely have a chance to do a little bit more against Pittsburgh on Saturday.
"The sky is the limit for this offense," Kelce said. "The guys who have been here and that have been here the last couple years - especially last year - we're taking it up a level [from where] we have in years past. You can just tell from the coaches' excitement, their attention to detail and from how guys are reacting to their coaching. This team is going to be awesome and we're going to have a lot of fun on the offensive side of the ball."
That's an exciting thought considering the Chiefs' posted the third-best statistical offense in NFL history last season, but that kind of production doesn't just happen overnight. It's months of preparation – beginning with Organized Team Activities last spring all the way to training camp – culminating in tangible results.
The Chiefs broke camp on Thursday and will head back to the training facility to continue that work following Saturday's game, and so far, Coach Reid feels good about where the team is readiness-wise.
"I feel like we have [accomplished what we were looking to do] to this point. Now, do we have a bunch of work to get done yet? Yeah, we do before the season starts," Reid said. "The guys came out [to camp] with what I thought was a great attitude. They had a purpose of wanting to be better. That's the way they approached it. Every day, they came with something individually to make themselves better, and then collectively as a team, to make themselves better."
That preparation continues on Saturday night in Pittsburgh, and as Mahomes reflected on the Chiefs' three weeks in St. Joseph, his excitement for what's next was all too clear.
"As you get closer and closer to the season, this is one of those little milestones where you get through camp and you know that you're that much closer," Mahomes said. "It was awesome out here this year. We were able to build a lot of chemistry and we got to have a lot of fun, so we're happy to be here, but now we're going back to Kansas City and getting ready. This season is going to be big."
Catch the Chiefs and Steelers on Saturday night at 6:30 p.m. CT on KCTV5.