It all began with a trip to the dentist for 15-year-old Jose Parra, who heard about a free dental clinic taking place at Arrowhead Stadium back in October from his school nurse.
It was the annual TeamSmile event at Arrowhead - where dentists from all over Kansas City closed their offices for the day with the goal of helping underserved kids in the area - and Parra decided it was something he needed to do.
His lower lip had been bothering him for quite some time, and after filling out the paperwork himself, Parra arranged to have a small abnormality looked at by one of the organization's diligent volunteers at the clinic.
The initial check-up revealed two options: he could come back at a later date to have a minor procedure done, or he could stick around for a little longer and have it performed right then and there.
"We put it in his hands," recalled Dustin Colquitt, who co-founded TeamSmile over a decade ago and was present that day back in October. "We told him he could get it fixed while he was there or he could come back."
For Parra, it wasn't even a decision. He set a timer, took a seat and waited. This was his responsibility, after all.
It was no surprise, then, that this sensible teenager agreed when TeamSmile asked Parra to come back for a quick follow-up visit on Tuesday morning – some two months after the procedure.
The operation had been a tremendous success – Parra found it easier to talk and eat without the abnormality hindering both. What was unclear, however, was the exact purpose of this additional visit.
He leaned back in the chair and fixated on the television above – ready for whatever needed to be done – until a hand landed on his left shoulder.
It was Colquitt, clad in a dental mask, gown and gloves with his familiar No. 2 jersey underneath, as Parra's patience transformed into elation.
Clearly, this was not a normal trip to the dentist's office.
"What's going on, man?" Colquitt asked as he took a seat in front of Parra's chair. "Do you know what kind of procedure we're going to do here today?"
An unsuspecting Parra shook his head.
"Well, I'll try to help out," Colquitt said as he picked up a piece of cardboard from down below. "I think this pretty much explains it."
Colquitt flipped the cardboard around, revealing it to be an oversized ticket to Super Bowl LIII in Atlanta. Jose, along with his mom, were going to the game.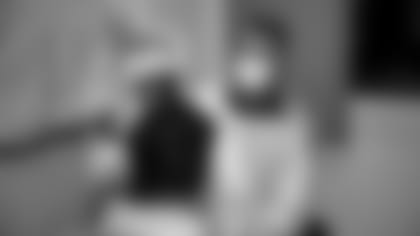 "I had no idea what was going on. To be honest, I'm not going to sleep tonight," an exuberant Parra said. "I got here and I was excited – this was my job to take care of this – but I had no idea this was coming."
Parra was selected for displaying a responsible attitude beyond his years during his initial visit to the dental clinic. It's precisely the kind of mindset that TeamSmile looks to instill in young people who might not understand the importance of a healthy lifestyle.
"It's awesome when you can put a smile on somebody's face like that and help change their life based on a decision that they've made," Colquitt said. "As he's more and more responsible and working on his grades – doing the right things – we can reward him for it. It was cool."
Colquitt and Para talked for at least 45 minutes following the surprise, discussing everything from school to, of course, the Super Bowl itself.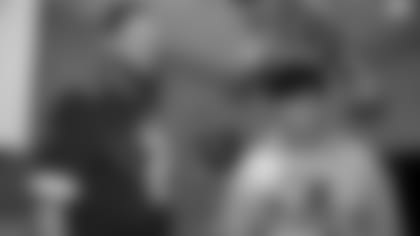 In fact, Parra revealed in passing that while he watches football on television, he's never actually been to a game.
Now he's headed to the biggest game in the world.
"I never thought this would happen to me," Jose said in disbelief as the visit neared its end.
Colquitt looked at the 15-year-old and smiled.