The blockbuster film "Rampage," starring Dwayne "The Rock" Johnson, hits theatres this weekend, and as it turns out, there's a familiar reference that Chiefs' fans may notice amidst the action.
Johnson portrays a character named "Davis Okoye" in the movie and took to Twitter on Wednesday morning to explain the reasoning behind his character's surname. 
Interestingly enough, the decision was meant as a nod to one of Johnson's favorite players while he was growing up – Christian "The Nigerian Nightmare" Okoye. 
It's something that caught the two-time Pro Bowler by surprise.
"I said, 'Man, he remembered me,'" Okoye said laughingly. "It's funny how you don't know how much of an impact you're having on other people. It made me feel good when I read it."
Okoye was certainly worth remembering during his time in the red and gold, rushing for 4,897 yards and 40 touchdowns over the course of his six-year career and earning in a spot in the Chiefs Hall of Fame in 2000.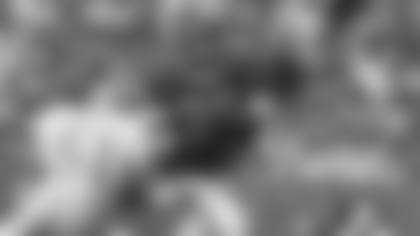 The high-profile nature of professional football led to plenty of time in the spotlight – and an eventual honorary role in a feature film - but Okoye believes his reference in "Rampage" stands as a lesson for the next generation.
"It means a lot to be remembered. That's something that little kids can take into account these days, just knowing that in the end, you're going to make an impact on people depending on how you do things and how well you prepare your mind to do whatever it is you want to do," Okoye said. "When I was playing for the Chiefs, I was just trying to work on my craft and do all the right things, and now that I'm done, people remember me. It makes me feel like I put in my work."
And now honored on the silver screen, it's only fitting that a film titled "Rampage" – a word synonymous with his running style - furthers Okoye's legend.