Throughout training camp, Chiefs Reporter B.J. Kissel will share his top observations from each practice.
The Kansas City Chiefs took the field Sunday morning at training camp for their second straight day of pads.
It was also the first of two Season Ticket Member days at camp this year, which gave STMs some exclusive opportunities that were only provided to STMs.
This access included a special meet-and-greet after practice with Chiefs' general manager Brett Veach. They also got an exclusive STM flag, plus free food and drink throughout the day from a few food trucks that were specially brought to camp for them.
"I'd like to thank the Season Ticket Members for coming out today," Chiefs' Assistant Head Coach and Special Team's Coordinator Dave Toub said after practice. "It was a great practice, a lot of physical stuff going on out there, it was really fun to watch."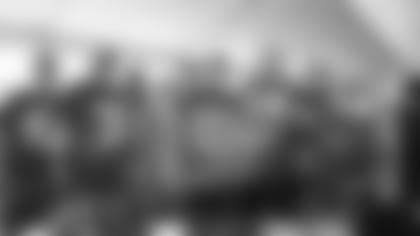 "I know the players really feed off of the fans and their energy," Chiefs' general manager Brett Veach added after practice. "So, we're excited to get out there, meet our great fanbase and interact with them. It's just a lot of fun and something that we look forward to."
As far as what happened _on_ the field Sunday morning, here's what you need to know:
1. The rain came but the fans stayed
This is about the time of training camp that the players really get their first test of what the grind in St. Joseph, Missouri is all about.
The veterans already know but the young guys are quickly figuring it out.
Many of the guys are still pretty sore from the conditioning test they had on Thursday, which has only been compounded as they've practiced every day since then. There hasn't been a break and it's about pushing through this first wave that will get them ready for their first preseason game, which is less than 10 days away.
On Sunday, the players took the field for their second straight day of pads, which means they're really fighting through some fatigue and getting after it at the same time.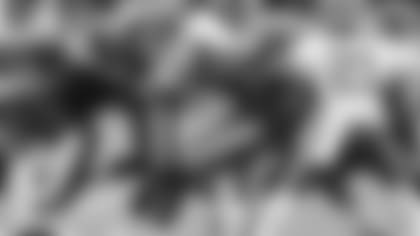 To make things even more mentally challenging in that way, the players also had to deal with some of the elements Sunday as it began to rain a little bit into practice and lasted about an hour.
While some fans who didn't bring umbrellas found shelter during the rain, there were a good majority that just owned it and stood in the rain. They were rewarded as both sides of the ball flashed some big plays once the rain subsided.
2. Rookie sixth-round pick Tremon Smith stood out
Early in practice, Tremon Smith—the Chiefs' sixth-round pick out of Central Arkansas—flashed the speed and quickness that's come to define his game thus far. It was something known about him during rookie minicamp and into OTAs, but it's translated well to pads and with the veterans.
On multiple occasions during 1-on-1 or 7-on-7 drills, Smith showed an ability to be plastered to his guy and make a play on the ball. He seems to be moving around and playing different spots as well.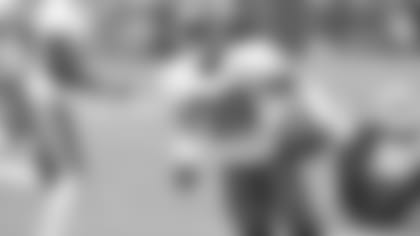 After practice, when Toub was asked about young players who have impressed thus far, the first name he mentioned was Smith. He also said he was the second-fastest player on the team behind Tyreek Hill, which is saying something.
Smith will be a guy to keep an eye on as we get into the preseason games, particularly with his ability in the return game, both on the punt and kick return teams.
3. Here are some quick-hitters on more memorable plays from Sunday, and things that stood out
Mitch Morse took the majority of snaps at center.
At left guard, Cam Erving started early in practice with the first-team offense, but Parker Ehinger worked in there later in practice.
Second-year receiver Marcus Kemp made a couple of fantastic catches again today. He's got great size and has stood out the last two days. Toub also mentioned him as one of the top special teams' guys at the receiver position, along with Jehu Chesson, who also made plays yesterday. It's a position that's pretty deep with young talent right now when you include guys like Demarcus Robinson, De'Anthony Thomas, Gehrig Dieter and Byron Pringle, who has flashed.
Mahomes hit Demarcus Robinson on a deep pass early in practice. It was a touchdown. It was great.
Veteran cornerback David Amerson continues to make plays, stringing together his third solid practice in a row. "I just want to keep it going, keep building off of it," he told me after Sunday's practice. "Every day I want to continue to show that I can be a playmaker for this squad and establish myself as a solid performer for this defense."
Travis Kelce is still really good at football, so there's no need to worry about that. He catches just about everything in his vicinity and seems to be Mahomes' go-to guy in situational periods.
Linebacker Ukeme Eligwe had an interception off backup quarterback Chad Henne during the team period late in practice. Eligwe had to jump and stretch to make the play, but he looked natural catching the ball.
Veteran edge rusher Justin Houston, who has spoken about how good he feels heading into this season, routinely found himself in the backfield during 11-on-11 work. That's a great sign for the defense.
Second-year edge rusher Tanoh Kpassagnon, who looks night-and-day more comfortable after a year of learning the position, had an interception off Patrick Mahomes during an 11-on-11 period. Kpassagnon dropped into coverage and Mahomes never saw him.
4. The daily Patrick Mahomes update
Not only did we see the flashes of brilliance from Mahomes again on Sunday, while also seeing him force a couple of throws across the middle on some semi-broken plays, there was one 9-on-7 period in which he found a little rhythm and seemed to be "feeling it."
First, he tossed a deep bomb to Sammy Watkins that displayed all of the arm talent we've been figuring out how to describe in different ways all offseason, but then he came back on the next play and after scrambling outside the pocket to his right, throws a little sidearm pass to Chris Conley, who broke vertically down the field after running into the flat.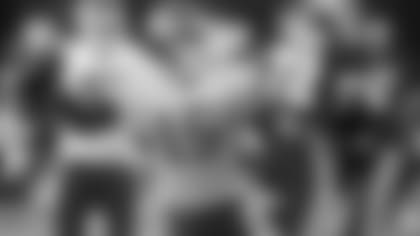 The player in coverage didn't see Conley turn vertical and by the time he figured out what happened, Mahomes was already celebrating a second-straight chunk play for the offense. He hit Conley in stride on a play that could only be described as "backyard football."
While there's a method to the madness in those situations, Mahomes just made his end of it look really easy.
There were learning moments, too.
During an 11-on-11 situational period that had the guys backed up to start the drive, Mahomes led the offense the length of the field all the way to facing a second-and-10 from the defense's 12-yard line, but threw one across the middle that was deflected into the air and intercepted by cornerback Steve Nelson, who nabbed his second interception of camp thus far, ended the drive.
The throw was into a tight window and seemed to be a touch out of rhythm.
Both Reid and Mahomes have spoken to the media about the need for him to figure out what he can and can't get away with in these live situations, and that may have been one of those learning moments.
5. Charcandrick West confirmed with a concussion
It was confirmed after practice that Chiefs' running back Charcandrick West, who left practice early on Saturday after taking a hit to the head, did suffer a concussion. He didn't practice on Sunday.
Fellow tailback Kareem Hunt, meanwhile, participated in individual drills but not the team portion of practice as he continues to deal with a hamstring injury.
Additionally, wide receiver De'Anthony Thomas was given a "rest day" as he works his way back from a fractured leg suffered last season.
On the other side of the ball, linebacker Reggie Ragland once again missed practice with a knee injury, but was working with strength coaches off to the side throughout the morning.
In terms of new injuries, cornerback Keith Reaser left practice early with a quad injury.