The Kansas City Chiefs took the field for the fourth official practice of training camp on Saturday in preparation for the upcoming season.
Here's a quick rundown of what took place during Saturday's practice, and for reference, every previous practice report can be accessed through the links below.
1. Tight end Jody Fortson left Saturday's practice with a quad injury.
Following practice, the Chiefs' communications department reported that Fortson left Saturday's session a bit early due to a quad injury. The Chiefs are off from practice tomorrow, so we'll receive an update on Fortson's status on Monday.
Other than Fortson, the only players on Saturday's injury report were the three individuals who remain on the "Physically Unable to Perform" list (cornerback Rashad Fenton, offensive tackle Prince Tega Wanogho and offensive tackle Lucas Niang).
2. Wide receiver Mecole Hardman had a busy day.
Hardman was responsible for one of the early highlights of the day, catching a pass over the middle before accelerating for a huge gain and a potential touchdown. The timing between quarterback Patrick Mahomes and Hardman was ideal on the play, providing the veteran receiver with an opportunity to show off his speed in stride.
The 24-year-old Hardman was on the receiving end of several other passes as the day went on, culminating in one of his most productive practices so far. Hardman even lined up at quarterback in the "wildcat" formation for a snap.
3. Wide receiver Skyy Moore made another big play.
A day after recording a diving catch and perhaps his best snap of camp, Moore was back at it on Saturday with another impressive grab. This time, Moore showed off his speed on a vertical route deep down the field before hauling in a contested catch and remaining in-bounds during team drills. Moore was also active earlier in practice, catching a short touchdown over the middle during 7-on-7. On that play, Mahomes – who was moving to his right – contorted his body to find Moore – who was sprinting to the left – for the score.
A successful camp is all about "stacking" good days, and Moore certainly put two strong days together between Friday and Saturday.
4. Cornerback Trent McDuffie recorded a noteworthy pass-breakup during team drills.
McDuffie was responsible for an impressive pass-breakup during team drills, providing good coverage before punching the ball out from the receiver's grasp. It was a really positive play by McDuffie, who has been receiving significant snaps throughout camp thus far in a variety of roles.
Linebacker Elijah Lee, who forced a fumble on Thursday, also recorded a pass-breakup over the middle during 7-on-7 drills.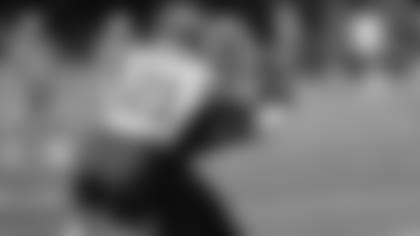 5. This marked the Chiefs' final "ramp up" practice before donning pads on Monday.
All four of the Chiefs' full-team practices up until this point have taken place in helmets, shells and shorts as part of an activity "ramp up" to actual football. The timing of each practice was also part of that ramp up, as the Chiefs subtlety increased their practice duration over the course of the week. For example, Wednesday's practice lasted for one hour and 25 minutes. Saturday's practice, meanwhile, was one hour and 55 minutes.
That was all designed in anticipation of Monday's practice, which will mark the Chiefs' first padded football activity since last year's AFC Championship Game. It will kick off a stretch of three-straight padded practices, signifying a major step when it comes to evaluating the roster.
The Chiefs will have an off day on Sunday before returning to practice on Monday for that first padded practice. For more information on training camp or for a schedule of practices, click here.