Throughout training camp, Chiefs Reporter B.J. Kissel will share his top observations from each practice.
Here are five things that stood out Monday morning:
1. It was a lighter day of practice
After getting after it in pads for the last two days, the Chiefs were given a lighter practice Monday morning. They were in shorts and the practice began an hour later (9:15 a.m.) than it had the previous two days.
The players have the day off on Tuesday and will be back at it Wednesday morning.
2. Kareem Hunt took some team reps
Over the last week, the NFL's reigning rushing champion—Kareem Hunt—has been limited at practice because of a hamstring injury suffered in the offseason, which also cost him some days of practice during minicamp back in June.
But following the two days of pads, Hunt was back on the field Monday morning and took some reps during the 11-on-11 periods. He had only participated in the individual portions of practice the last few days.
On multiple carries during these practice periods, Hunt was able to cut up field on an outside run and accelerate through the first level of the defense. It was a good sign for him as he continues to work his way back.
3. Cam Erving is moving all over the place
After taking some reps with the first-team offense at center to open up training camp, Erving has been on the move as he works his way into multiple spots.
Over the last few days Erving has also taken reps at left guard, right tackle and left tackle.
Normally, the Chiefs have had seven offensive linemen active on game days during the regular season, so there always have to be a few guys who can play multiple positions.
We've seen it in the past with guys like Zach Fulton and Jeff Allen.
4. A couple of starting cornerbacks snagged interceptions
With the guys being in shorts and there not being a whole lot of contact, the takeaways from what was taking place on the field should be understated a bit.
But there were still a few plays that got the crowd going and should be mentioned.
Patrick Mahomes hit Tyreek Hill on another deep throw for a touchdown during the team period. It's become a regular occurrence and not anything that surprises anyone at this point. It's part of Mahomes' game and Hill has the speed to make it something that stands out every time it happens.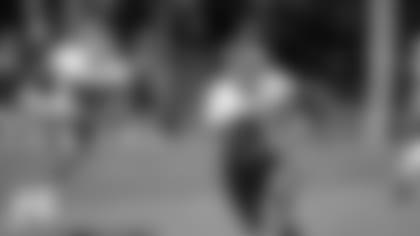 Two of the starting cornerbacks—Kendall Fuller and Steve Nelson—walked away from Monday's practice with interceptions. Fuller has had some fantastic 1-on-1 reps against Sammy Watkins the last few days, and it was Nelson's team-leading third interception of camp thus far.
Second-year linebacker Ukeme Eligwe didn't practice on Monday because of a foot strain, joining cornerback Ashton Lampkin (knee), linebacker Reggie Ragland (knee), cornerback Keith Reaser (quad strain) and tailback Charcandrick West (concussion) as the players that didn't take the field.
Additionally, running back Kareem Hunt, who has been limited in practice with a hamstring injury, was seen participating in team activities. Following practice, Chiefs' coach Andy Reid indicated that the second-year running back was "making progress."