Throughout training camp, Chiefs Reporter B.J. Kissel will share his top observations from each practice.
Here are five things that stood out Sunday morning:
1.    It was Season Ticket Member Day
It's become a yearly tradition at camp—a pancake breakfast that's reserved exclusively for Chiefs' Season Ticket Members.
It's the only time you can find Chiefs' Chairman and CEO Clark Hunt, President Mark Donovan, and General Manager Brett Veach flipping pancakes with fans and serving them to those who have made Chiefs Kingdom such a phenomenal fan base.  
"This is something we look forward to every year," Hunt explained. "It's an opportunity to celebrate the beginning of another football season and to thank our Season Ticket Members, while also having a chance to really interact with our fans."
After having more than 6,000 fans at practice on Saturday morning, which is among the most ever for a Chiefs' training camp in St. Joseph, the near-capacity crowd Sunday morning was also treated to a full team autograph session following the practice.
2. Reggie Ragland took the field and practiced for the first time of camp
One of the top takeaways from Sunday's practice was the return of starting inside linebacker Reggie Ragland, who hadn't yet stepped on the field at camp as he was dealing with swelling in his knee.
Chiefs' coach Andy Reid never seemed too worried about the third-year linebacker, who has drawn rave reviews from people inside the organization for what kind of season they expect from the former SEC Defensive Player of the Year and 2015 National Champion at Alabama.
Ragland, as can be expected, was limited in his work on the day but Reid did say after practice that he thought he "looked good" as he gets back into the mix.
Rookie defensive lineman Derrick Nnadi, who has missed time recently with an elbow injury, returned to practice but was also limited, as was safety Leon McQuay, who is dealing with a hamstring issue. Receiver Marcus Kemp also returned to practice after dealing with an ankle injury.
The Chiefs also saw the return of the left side of their starting offensive line in left tackle Eric Fisher, who had missed a few days with a shoulder injury, and also left guard Cam Erving, who was dealing with a knee issue.
The Chiefs who didn't practice at all on Sunday were rookie linebacker Dorian O' Daniel (thumb), running back Charcandrick West (concussion), linebacker Anthony Hitchens (hamstring), linebacker Tanoh Kpassagnon (heel), and cornerback Keith Resear (quad).
Rookie offensive lineman Tejan Koroma (BYU), who was working his way up the depth chart at center after signing with the Chiefs last spring following rookie minicamp, where he was there as a tryout player, went down with a knee injury during the OL-DL 1-on-1 drills. He had worked his way up to the backup center position.
After going down, Koroma's teammates, both on the offensive and defensive sides, took a knee as he was tended to by the Chiefs' athletic trainers. He was ultimately taken off the field on a cart and Reid said after practice that they're doing some more tests on his knee.
3. Chris Jones continues to provide energy to the Chiefs' defense
Sunday's practice was the 9th of the 15 that will take place for the Chiefs at camp this year, and it was hot.
So, when you add in that and the fact that the guys are tired and sore, this is the middle of the "grind" that's often discussed of training camps each year.
This is that part of camp—a difficult, but necessary, part of the journey.
So, this is the time, perhaps more than any other, that Reid relies on the guys he often calls "energy givers." It's a phrase he uses all the time to describe the kind of people he wants to coach and be surrounded by every day.
There might not be a player on the roster that provides more energy than third-year defensive lineman Chris Jones.
Whether it's before, during, or even after practice—Jones is letting his personality show.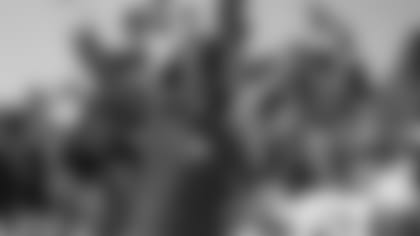 "He's got that big personality," Reid said after practice of Jones. "He lets it show out here and it kind of keeps it alive when you're going through the grind of one of these long practices. So, he's one of the parts of that chemistry that's developing on that defensive side.
"So, you've got some big personalities over there and I expect them to let their personalities show."
For Jones, it's a matter of just going out there and being himself to try and provide a spark to guys when they're in the middle of these tough days of camp.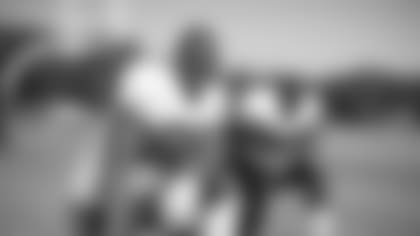 Based on the periods of practice on Sunday, there was a need for a spark, too. It was their long drive day, which means it was first-team offense against the first-team defense for 16-18-play drives, going through real game situations.
It's one of the most-physically grueling periods they have in any practice at camp, and it's exactly where leadership shows up. It's not on game day when everyone is feeling good. It's on days like Sunday when they're in the middle of camp, their bodies hurt and their minds are searching for something to latch onto.
Jones is trying to be one of those voices.
"I'm always talking to people—amping them up," Jones added. "It just gives energy to guys. It just charges them on the field, especially those long drives when you're going 16-18 plays, you need somebody to give you that extra boost of energy. I see what it's like on the sideline because I know what it's like out there.
"I just try to encourage the young guys to keep on going. Even when they're tired and they feel like they can't go any more, you've still got a little something in you, and I try to talk them through it and encourage them."
Jones wasn't just over there talking either. He had a fantastic day as he found himself in the backfield blowing up plays, winning his one-on-one battles and being the overall force that's made him one of the most intriguing young defensive linemen in the league heading into the 2018 season.
4. Some of the top plays from Sunday
It's become a trend now that he's put a number of good days in a row together, but fourth-year cornerback Steve Nelson has been one of the top stories of camp, and he had another great day on Sunday.
Considering cornerback was a position that a lot of outsiders thought was a concern heading into this training camp, the combination of plays that Nelson, Kendall Fuller, and David Amerson, plus a number of the young guys like Tremon Smith and Arrion Springs have been making at camp should provide some optimism as we head towards the first preseason game next week.
And speaking of young guys who have been stringing good days together, former Kansas State standout receiver Byron Pringle had another good day on Sunday. He had a phenomenal one-handed catch for a touchdown during the 1-on-1 portion of practice early on Sunday. It's become a trend that he's going to make some sort of highlight-worthy play at some point during every practice.
Rookie quarterback Chase Litton, who has quietly had a solid camp with flashes of a big arm and playmaking ability, had a fantastic throw to receiver Josh Crockett for a touchdown across the middle during the 1-on-1 period.
5. It was a good day for Patrick Mahomes
While much has been made of every throw Patrick Mahomes has made so far during camp, Sunday was a good day for the young quarterback, who must have thrown around 100 footballs on the day. He made a number of great throws with great reads and managed to only have one interception, which came on a deflected pass during the 1-on-1 portion of practice.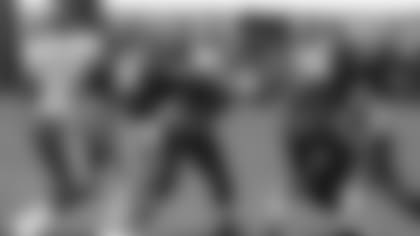 A lot has been made of these training camp interceptions as both Reid and Mahomes have spoken about their desire to learn what Mahomes can and can't get away with, but the reason the number today is perhaps more impressive than other days is that the Chiefs ran a team blitz period as well as a third-and-long period.
Those are both situations in which mental mistakes, risky throws, and mistakes could very well happen. Oftentimes, in the context of playing quarterback, those mistakes mean interceptions.
But they didn't happen, although that's not to say it was a mistake-free day either.
"It's a great battle because (the defense) knows we're going to throw the ball every down," Reid said of the third-and-long period. "There's a certain attitude you develop. Normally, the defense is going to win more than their going to lose in that situation.
"But it's great for the offensive line. It's a great gauge to work with because when they get into the season there's a certain mentality they take in those situations, and they develop it right here."