From the tiny 2,500-person town of Houston, Mississippi, all the way to Arrowhead Stadium, Kansas City Chiefs' second-year defensive lineman Chris Jones' story is as unique as the man fans have grown to love.
Never one for a dull moment, Jones has developed a reputation on the field for wreaking havoc along the defensive line, while at the same time—making everyone laugh away from it.
"He's kind of grown up before our eyes," Chiefs coach Andy Reid explained of Jones, whom the Chiefs selected in the second round of the 2016 NFL Draft out of Mississippi State. "I think his teammates have been good for him that way. They enjoy the youthfulness of him, but at the same time they've educated him on the demands of this game at this level, so you're seeing that.
"But he lights up the room. He's definitely an energy-giver," Reid added.
Jones, who looks like a Madden create-a-player at 6-feet-6, 310 pounds, credits his youthful exuberance to his father, Chris Jones Sr.
Jones Sr., who has spent much of his life building furniture—a blue-collar job that's taken its' toll on him physically these days—missed a large chunk of Chris' childhood because he was in jail for a DUI.
Chris was in fourth grade when it happened, and he and his two younger sisters would rely on their mother, Mary, to hold things down until their father returned when Chris was in high school.
By that time, Chris had lived in a few different places.
"Houston isn't a rich place, and there aren't suburbs in Houston," Jones explained. "We grew up in the slums."
Despite not being there for many of those early years of Chris' life, the impact his father had was ever-present.
"He always told me life could be worse," Jones explained. "I had this Michael Jordan picture he gave me when I was a kid—it was like a cartoon clip of Michael Jordan jumping over aliens. He was like, 'This is Michael Jordan defeating all odds, jumping through life and over aliens to reach his goal.'"
The picture was a poster of the movie, "Space Jam," and it was just one way his father's impact followed Chris even when he couldn't be there in person.
It may seem silly to some, but for what he was going through and the challenges he faced—the picture meant more to Chris than most could understand.
"I kept that picture until I got to college," Chris said. "That's how I got my happy attitude. You know there's always someone doing worse than you are, so you just be excited about where you're at."
Despite missing a big chunk of his childhood, the relationship Chris has with his father couldn't be stronger than it is today.
"He just goes with the flow," Jones said of his father. "If I told my dad I wanted to go to Alaska tonight, he'd be like, 'Why do you want to go? I'll ride with you, but why do you want to go? Ain't nothing to do in Alaska.'"
There can't be many places in the country that would be more different from Alaska than Houston, Mississippi, but it made Chris who he is today.
And football didn't even enter the picture until he was a sophomore in high school.
"I couldn't afford peewee when I was a kid—it was like $180 to sign up and then you had to buy your own cleats and all that, I couldn't afford that," Jones, who said he'd sometimes go to his friends' football games if their parents would take him to the buffet afterwards, explained. "I used to get the entertainment off backyard football. They use to throw like backyard champions at my grandma's house, and that's when the real hitters come out.
"You've got like 30-year-old men coming out blasting us. I was only like 14, but you had these old guys clapping us with no mercy, killing us, that was a trial time."
Chris' grandma's house was off "Church Street," an area of Houston that only those who live there could truly understand. It's where everything in town went down and where outsiders wouldn't be caught wandering around.
The three-bedroom house, which couldn't be more than 1,000 square feet, hasn't changed much over the years besides an updated television and some new couches.
But it had as many as 11 people living in it at one time when Chris was in high school.
"My grandma had my auntie, her two children, me, my mom, my grandfather, my dad, my little sister, my other sister and sometimes my other auntie's husband, and Big Timer. Big Timer is my uncle," Chris explained of who all was living there.
Chris began living permanently at his grandma's house as a junior, when he developed into one of the nation's top football prospects. That whole year, Chris was sleeping on a small couch in the living room with his feet hanging off the arm rest.
Ty Hardin, who was an assistant coach at the time but is now the head coach at Houston High School, knew Jones was a special athlete from the moment he first saw him, but he also knew there was something different about him.
"[Jones] knew if he wanted to be great, and he was already great athletically, but if he wanted to be *really *great, he had to be a leader," Hardin explained. "Sometimes when he wasn't in the game, he'd come out on the field to the huddle with two six-packs of water, giving the other guys water and stuff like that.
"For real, that's how he was. And if one of the guys had punishment after practice, [Jones] would stay after and do it with them. He did it with a smile on his face."
Jones was not only the best player, but he was the hardest worker. He made a habit of having the team listen to speeches from Ray Lewis before their games, and when he felt like that plan to fire everyone up had run its' course, Jones tried something else.
As a senior, Jones and the Houston team had gotten smoked by Louisville earlier in the season, and they were about to face them again in the third round of the playoffs.
Before the game, Jones brought out the newspaper clippings from that game, and went on a speech that Hardin and company remember like it was yesterday.
"We had a coach on the team for 30 years start to tear up and say he'd never seen a kid do something like that," Hardin explained.
They didn't win the game, but the moment before the game has stayed with those who were there. It's when one of the best high school players in the country—a guy who spent a year living on the undersized couch at his grandma's house, and a guy who would do extra conditioning with his teammates so they wouldn't feel alone—reinforced the idea that he was more than just the guy with jokes who made everyone laugh. He was special.
Jones credits his hometown for making him who he is today.
"If I hadn't have come from here, I wouldn't have my attitude," Jones explained. "If I were given a silver spoon, I'd probably be different. Your background kind of makes who you are. After you see the houses I grew up in, and the hardships I faced, it makes me almost more excited where I am today.
"It makes me want to give back more."
Jones does give back, but he doesn't boast about it.
All those years learning from his grandma, whose open-door policy in that tiny house extended beyond just their family, but to anyone in town who might need some help and a place to stay, taught him well.
Jones, who still attends church with his grandma every Sunday he's back in Houston, gives out sandwiches to the homeless on Saturday afternoon's during the offseason from "The Local Pig" restaurant in Kansas City.
He doesn't talk about it because that's not why he does it.
The same guy who got an after-school job when he was in sixth grade so that he could buy his sister chicken tenders every night so that she wouldn't go hungry, is now paying it forward in Kansas City both on and off the field.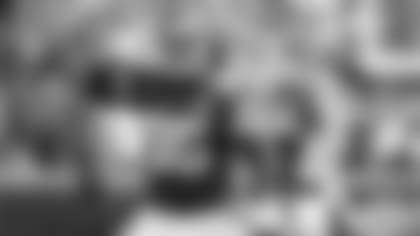 There's more to Jones than the jokes and fun-loving personality that's developed him into a fan-favorite in Kansas City.
"You see him on TV dancing and singing and telling the coach to let him play quarterback, that's exactly who he is," Hardin laughed. "He's always been that way, and I thank God he stayed that way."
"He's never met a stranger," his grandmother added.
From humble beginnings and an infectious personality—developed in part through a Space Jam movie poster his father gave him as a kid—Jones' journey and what he's gone through should help those who hear his jokes and cheer his plays, realize how Chris became Chris, and why there has always been more to the story. "I feel like that's my call in this world—to inspire happiness," he said. "That's what I think life is all about."