NOTE (5/4/2017): *We originally published this article in early April 2017. May the Fourth be with you.
 *
If you're like me, you didn't realize the "Star Wars" franchise had a web show.
Well, it does, and this week, the Kansas City Chiefs' own Chris Conley joined host Andi Gutierrez as a guest on the program.
If you like "Star Wars," click play above. If you like Chris Conley, speed up to 4:33.
Gutierrez starts the interview by asking Conley about his film, titled "Retribution," which he made in 2014 while attending the University of Georgia. As of this posting, the movie has more than 575,000 views on YouTube.
"Sometimes athletes get pigeonholed into stereotypes of what they are and what their interests are and what they can do," Conley said. "I think the first response I got from a lot of people was, 'Oh, all football players aren't dumb.' I think 'Retribution' really opened the door for me to fall in love with filmmaking."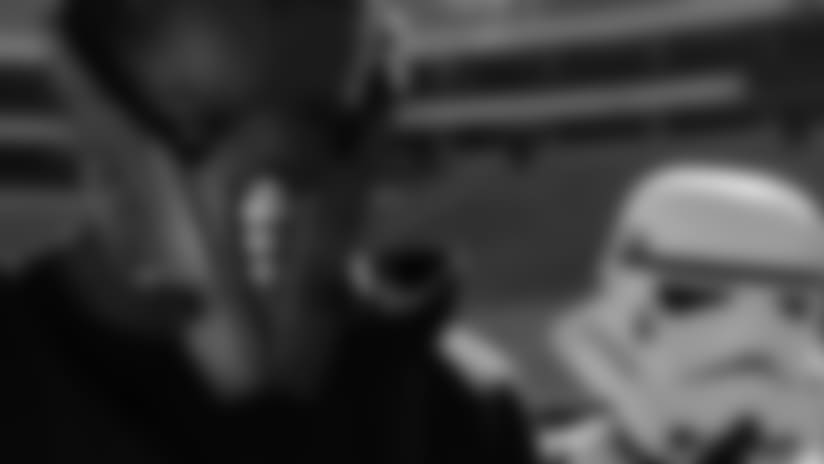 The interview then shifted to how Conley first became interested in the franchise.
"My mom was big on making us read—she's a teacher—so if I had a choice of what book, it was a 'Star Wars'-related book and then immediately, once I was old enough and allowed to play video games, all the games, from Nintendo 64 to the old computer games. You know, 'Jedi Knight: Academy,' 'Jedi Knight: Outcast.'"
Video games have always been a part of Conley's life, particularly "Star Wars: The Old Republic," a multiple player online game which debuted in December of 2011.
"When the game first came out, I was on there an obscene amount of time," Conley explained. "I play competitively online. I even had a gaming laptop in my dorm room on a table I had set aside, and it was just for that game."
Upon hearing that, Gutierrez playfully calls Conley a nerd.
"Nerds come in all shapes and sizes," he said while smiling. "I think it would be more evident if a lot of the 'cons' actually weren't during our football season because I'd be at every single one of them. I've met tons of guys who connect with all this stuff, and I think it's something that's bigger than a stereotype. I think it's a great community of people, whether it's in the video games or the books or even the movies. The prop-building communities that come together—there are so many facets of the story of 'Star Wars' in the world that people can connect to in their own way, and I think the talented people in this building who are working on all these projects—'Star Wars' is in great hands right now, and I'm confident in that and it makes me happy as a fan to know, that [the hosts of the "Star Wars" show] work around something that's so dear to so many of us."
We've always known Conley loves "Star Wars." Now it's probably fair to say "Star Wars" loves him back.