More than 300 of the top college prospects in the nation gathered in Indianapolis this past week for one of the grand spectacles of the offseason in the NFL Scouting Combine.
From one-on-one interviews to the 40-yard dash, it's a one-stop shop for NFL decision-makers with the draft inching closer by the day.
Here's a look back at this year's combine, from how the local prospects did to the performances that stole the show.
Before jumping into the prospects themselves, here's a look behind the curtain at what the Chiefs' evaluators were looking for in Indianapolis.
Chiefs' General Manager Brett Veach and Head Coach Andy Reid also met with the media and Chiefs.com while at the Combine.
Veach, for example, discussed having eight picks in the upcoming draft and how that affects Kansas City's strategy moving forward.
Reid, meanwhile, talked about how the Chiefs evaluate the "football character" of potential prospects.
The early story of the Combine was undoubtedly Ole Miss wide receiver D.K. Metcalf, who – at six-foot-three and 228 pounds – ran a 4.33-second 40-yard dash, tallied 27 reps on the bench press and leaped 40.5 inches into the air on the vertical jump drill.
Mississippi State defensive lineman Montez Sweat also turned in an impressive showing, clocking his 40-yard dash at 4.41 seconds. The six-foot-six, 260-pound Sweat's 40-time was the fastest official time ever by a defensive lineman at the Combine.
Speaking of blazing 40 times, Ole Miss safety Zedrick Woods recorded the top time of the weekend at 4.29 seconds. Fellow safety Juan Thornhill – a Virginia alum – tallied the best vertical jump at 44.0 inches. Michigan cornerback David Long, meanwhile, notched the quickest 3-cone drill (6.45 seconds) and 20-yard shuttle (3.97 seconds).
Ten players from four local schools made the trip to Indianapolis this year. Here's a look at each of those players along with some notes on who impressed the most. For each players' official measurements, just click on their name.
Hall had a strong Combine, recording the top broad jump of all participants (141.0-inches) to go along with a 43.5-inch vertical jump (2nd among receivers) and a 4.39-second 40-yard dash (6th among receivers).
Lock also had a solid showing, notching a 4.12-second 20-yard shuttle (2nd among quarterbacks) and a 7.03-second 3-cone drill (3rd among quarterbacks) in addition to a 4.69-second 40-yard dash (4th among quarterbacks). He also impressed with his arm in passing drills.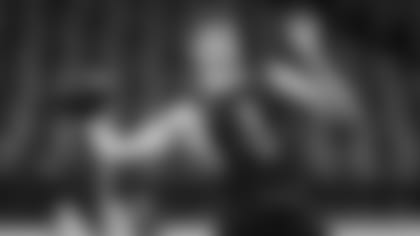 Blanton tallied 22 reps on the bench press, which ranked second among tight ends.
Barnes put on a show in Indianapolis, beginning on the bench press with 34 reps – the most among running backs. For context, only three players (1 offensive lineman and 2 defensive linemen) tallied more on the bench. Barnes also recorded a 4.10-second 20-yard shuttle (1st among running backs), a 6.95-second 3-cone drill (2nd among running backs), a 38.5-inch vertical jump (3rd among running backs) and a 126.0-inch broad jump (5th among running backs).
Prior to the weekend, The Athletic analyst Dane Brugler called Barnes a big, physical bruiser who had a chance to really improve his stock with a big showing in Indianapolis. He certainly did that.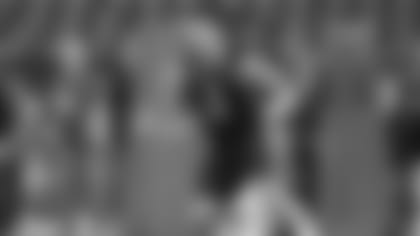 Risner recorded a 4.52-second 20-yard shuttle, which ranked fourth among offensive linemen.
Ballentine tallied the top broad jump (135.0 inches) among cornerbacks and the fifth-best mark overall.
In addition to the slew of executives, coaches and scouts evaluating players at the Combine were members of the national media. We had an opportunity to ask some of those individuals who they could see Kansas City drafting next month.
ESPN'S Todd McShay, for example, saw defensive backs Byron Murphy (Washington) and Nasir Adderley (Delaware) as potential fits for the Chiefs.
NFL Network's Bucky Brooks, meanwhile, talked about cornerbacks Deandre Baker (Georgia), Trayvon Mullen (Clemson) and Rock Ya-Sin (Temple) among other topics.
NFL Network analyst Daniel Jeremiah also talked about Ya-Sin, calling him one of his favorite players in the draft.
Jeremiah also discussed a couple of linebacker prospects that could fit in Kansas City's new 4-3 defensive scheme in L.J. Collier (TCU) and Brian Burns (Florida State).
The Combine may have come to an end on Monday, but the prospect evaluation process is far from over. Colleges from around the county will host their own Pro Days over the next several weeks leading up to the draft, which gives scouts an opportunity to see even more prospects firsthand. The Chiefs will also invite some prospects to Kansas City for a visit.
It all makes for an exciting couple of months as the Chiefs prepare for draft night.