Here are five things that stood out.
1. Reid kicked things off by setting the stage for the weekend.
"They did their walkthrough this morning and they're all eager to get going. We're eager to see them. Everybody is here that we thought would be here, so we're able to be two-deep at each position," Reid said. "We'll give them an opportunity here to go out and show us what they can do. It's five practices - two are walkthroughs."
Reid then explained what the coaches and front office staff hope to see out of the 72 players competing this weekend.
"Brett [Veach] and his scouts have just done a phenomenal job scouring the country. Some of these free agents - we talked to them yesterday - and they're guys that were undrafted but they have an opportunity to make the team – it happens every year," Reid said. "It doesn't matter if they were a priority free agent or not, you can be a tryout guy, but somehow somebody squeaks in there, catches your eye and you bring them on. The main thing is – particularly with the drafted players – we build a foundation with these guys, and we're going to throw quite a little bit at them, but we want to build that foundation, see what they can retain, how they function from the meeting room to the walkthrough and then a practice. We're going to cut them loose a little bit here and see what they can do."
Reid also provided a quick injury report on the guys who didn't practice.
2. Reid hadn't had an opportunity to discuss the Chiefs' final four draft picks from last weekend yet, so he did so on Saturday beginning with defensive tackle Khalen Saunders.
"I like him, and not just because he can do a backflip at 320 pounds," Reid said jokingly. "He had been a running back in high school, and now here he is as a defensive lineman, so you can see that athletic ability and explosion. He has good measurables – I'm talking about size, speed, balance and arm-length – all of the things that are important."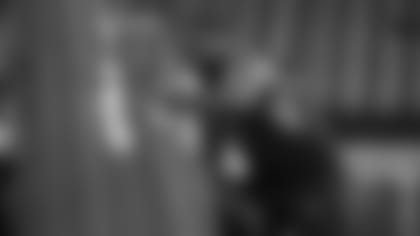 3. Reid then spoke about sixth-round pick Rashad Fenton.
"I like his cover ability," Reid said. "He can play inside and outside, and we'll see how he does in those areas."
Indeed, Fenton has experience all over the field. He lined up at cornerback, nickel and safety at the University of South Carolina, tallying a team-leading three interceptions last season along with 34 tackles, six pass-breakups and 2.5 tackles-for-loss.
4. Next was tailback Darwin Thompson, who the Chiefs also selected in the sixth-round.
"I loved him in college and what we saw him do at Utah State. He wasn't there a long period of time, but what we saw, we sure liked," Reid said. "He's not real tall, but he's put together and rocked-up pretty good. He has great quickness – he's one of those guys whose center of gravity is low, so he can move around. He's quick and he has good hands, so we'll see how he does."
Reid later compared Thompson's skillset to that of former Chiefs' running back Charcandrick West.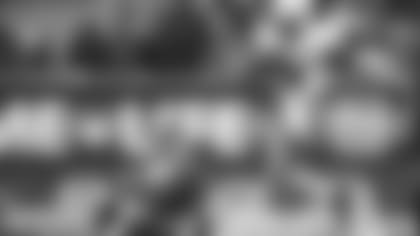 5. Finally, Reid discussed seventh-round pick Nick Allegretti.
"He can play center or guard and could probably kick out to tackle – he's not a small guy – but we like him at guard and center. He'll work at center out here with the first group and he'll get a little guard work in as we go," Reid said. "He's extremely intelligent. If the Wonderlic Test means anything, he'll be No. 1 in that. He was a two-time team captain, too. There's nothing pretty here – he could wear [anybody's clothes], but he plays a lot better than just [anybody]. He's a tough kid and he moves around well. The one thing that jumps out at you is he's dirty tough. That's the one thing you notice when you watch tape on him without even knowing him – that's a tough nut right there."
Each of those players – along with 68 others – will be hard at work this weekend showing off what they can do.