A photograph can be powerful.
It has the ability to capture the raw emotion of a singular moment – whether that be the thrill of a Super Bowl victory or a fan simply experiencing their first game at Arrowhead Stadium.
We're exploring some of those moments from the 2019 season over the next several weeks along with commentary from Chiefs' photographer Steve Sanders.
Sanders hand selected each of the photos we'll feature in this series as his personal favorites, covering everything from the dramatic to the hilarious.
We'll continue with No. 3.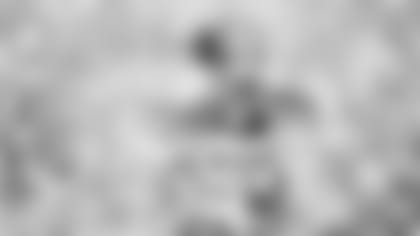 Game: Super Bowl LIV, Chiefs vs. 49ers
The Subject: Chiefs' defensive end Frank Clark embraces the falling confetti in the moments after Kansas City's victory in Super Bowl LIV.
Camera Model: Canon EOS-1D X Mark III
Q: What do you recall about this moment?
Sanders: "This photo was taken by my son, Evan Sanders. Near the end of the game, kind of as I was preparing for some other parts of the postgame – such as a possible Gatorade dump – I gave Evan a camera to capture celebrations and things like that. Shooting a photo like this is super challenging just because of all the obstacles that come into play with focus. I just like the way that Frank is sharp, he's looking up at the sky and the confetti cleans up the background. It's just Frank and the confetti, and he's immersed in the win."
Q: After getting to know Frank and the man that he is this season, what did it mean to you that your crew captured this moment of pure joy from him?
Sanders: "This is something that will always be a momentous moment for Frank. It's his first championship and he's going to remember this forever. I think this is one of those pictures that will live in Chiefs' history forever, too, just because of all the confetti and excitement. As a fan, you know you'll smile every time you see that confetti because you know what it meant."
Q: How proud were you of your son when you saw this?
Sanders: "It's incredible to see him be able to do this. He's watched me do this for a long time, and now that he's growing up – he'll be 20 soon – he's kind of deciding what he wants to do and this is one more skill that he has in his tool bag. He had an opportunity to go to a Super Bowl, work the game and come home with some great images."