A photograph can be powerful.
It has the ability to capture the raw emotion of a singular moment – whether that be the thrill of a Super Bowl victory or a fan simply experiencing their first game at Arrowhead Stadium.
We're exploring some of those moments from the 2019 season over the next several weeks along with commentary from Chiefs' photographer Steve Sanders.
Sanders hand selected each of the photos we'll feature in this series as his personal favorites, covering everything from the dramatic to the hilarious.
We'll continue with No. 4.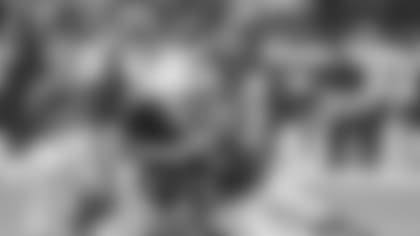 Game: AFC Divisional Round, Chiefs vs. Texans
The Subject: Chiefs' safety Daniel Sorensen forces a fumble on special teams as part of Kansas City's relentless comeback against Houston.
Camera Model: Canon EOS-1D X
Q: What do you recall about this moment?
Sanders: "I believe this could be one of the most important plays of our entire season. It was a special teams play on kickoff, and we had just stopped a fake punt and scored very quickly prior this after initially falling behind 24-0, so this would have been a big drive for the Texans had they retained the ball. This was probably the best game of Sorensen's career. He was making plays all day long and I think this was the biggest one. He came down, he put his shoulder on the ball, knocked it loose and that ball actually went to [tailback] Darwin Thompson, who you can see in the background. He pulled it out of thin air. This play is an example of peak action. The ball is popping out, the returner is off the ground and the dirt from Dan is driving through on the tackle. It's a great photo."
Q: How does a photographer stay ready for this kind of moment considering that kickoffs typically doesn't result in much action?
Sanders: "A lot of times on a kickoff, you may think it's just going to be a touchback, but you never know. You have to watch the play develop. Every week as a photographer group, we try to get stuff for the special teams' coaches. We supply things that they use for part of their film sessions during the week in their meetings, so I always tell my guys that we have to get great special teams' photos. I tell them to look for stuff that's unique, and this happened. It's just a great shot and a game-changer – a season-changer even."