A photograph can be powerful.
It has the ability to capture the raw emotion of a singular moment – whether that be the thrill of a Super Bowl victory or a fan simply experiencing their first game at Arrowhead Stadium.
We're exploring some of those moments from the 2019 season over the next several weeks along with commentary from Chiefs' photographer Steve Sanders.
Sanders hand selected each of the photos we'll feature in this series as his personal favorites, covering everything from the dramatic to the hilarious.
We'll continue with No. 6.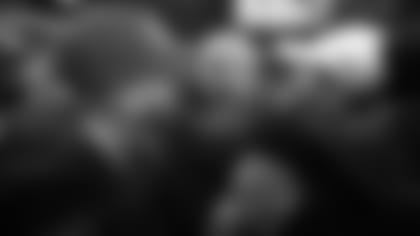 Game: Super Bowl LIV, Chiefs vs. 49ers
The Subject: Chiefs' Head Coach Andy Reid celebrates in the immediate moments following Kansas City's victory in Super Bowl LIV.
Camera Model: Canon EOS-1D X Mark II
Q: What do you recall about this moment?
Sanders: "This could possibility be the happiest I've ever seen Coach Reid. His son, Britt, ran right up to him to congratulate him following the game and [Strength & Conditioning Coach] Barry Rubin, who he's been with a long time, is there too. Just the joy and the excitement here is special. You can't help but smile when you look at this picture because you know how much joy Coach Reid has here. You can see it in his eyes and his smile."
Q: How difficult was it to capture this photo amidst the media scrum?
Sanders: "The scrum was just beginning at this point, but there were probably 40 people that immediately descended on or around Coach Reid. You're trying to make your space and find your angles so that you have as clear a shot as possible. You can actually see what's going on up on the video board, it's kind of a backside self portrait of me working, but you can see how big that scrum is getting."