A photograph can be powerful.
It has the ability to capture the raw emotion of a singular moment – whether that be the thrill of a Super Bowl victory or a fan simply experiencing their first game at Arrowhead Stadium.
We're exploring some of those moments from the 2019 season over the next several weeks along with commentary from Chiefs' photographer Steve Sanders.
Sanders hand selected each of the photos we'll feature in this series as his personal favorites, covering everything from the dramatic to the hilarious.
We'll continue with No. 5.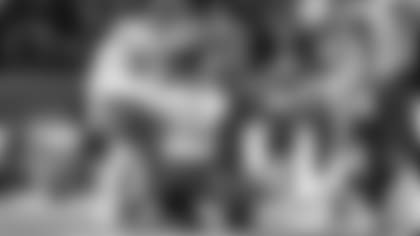 Game: Chiefs vs. Patriots
The Subject: Chiefs' defensive end Frank Clark looks down at Patriots' quarterback Tom Brady after a sack.
Camera Model: Canon EOS-1D X Mark II
Q: What do you recall about this moment?
Sanders: "This was late in the season and we actually won the division that night. New England has been a 'nemesis' team for us, so it was a big game and it was important for us to go up there and win. It kind of set a tone if we were to play the Patriots again in the playoffs. In this particular photo, we had some success against Tom [Brady] throughout the game and I think Frank was making a statement here. He had just sacked him and the staredown between them is what I really like. You don't know what they're saying to one another, but it makes you want to know."