A photograph can be a powerful thing.
It has the ability to capture the raw emotion of a singular moment – whether that be a game-winning touchdown or a fan experiencing their first trip to Arrowhead Stadium.
We began exploring some of those moments from the 2018 season last month and will continue to do so over the next several weeks along with commentary from Chiefs' photographer Steve Sanders.
Sanders, who has been on the job for over 20 seasons, hand selected each of the photos we'll feature over the next two months as his personal favorites.
Here's a look back at what we've covered so far:
We'll continue with No. 5: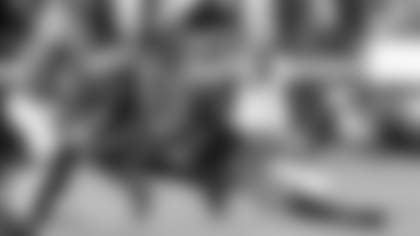 Location: Arrowhead Stadium in Kansas City, Mo.
The subject: Chiefs' cornerback Kendall Fuller makes a diving interception during Kansas City's Week 8 matchup with the Denver Broncos.
Model: Canon EOS-1D X Mark II
On the situation surrounding this moment: "Kendall Fuller is just snatching a pass out of the air here, and I think at this point in the game, if the Broncos had been able to continue the drive, they could have made it a three-point game," Sanders said. "This was one of our big defensive plays early on in the season that really helped secure a win for us."
On what makes this photo special: "There are a lot of things I like about this picture. [Broncos' receiver] Demaryius Thomas' hands are out in such a way that he's already closed them in as if the ball was there. Everybody is elevated, too. Both Fuller and Thomas are off the ground," Sanders said. "This is just one of those peak action photos that I was able to get timed just right. It happened so fast – it was just in the flat, maybe 15 or 20 yards down the field – so I was focused on the quarterback and just happened to swing over and get that shot…You just have to plan for success and hope it happens."
On his reaction when he realized he captured this shot: "It's what you do this for," Sanders said. "He made that interception in a big moment and I was able to capture it at the right time and take a big picture. It makes you feel pretty good when you look down at the back of the camera and see that you got that."
Check back next week for another one of Sanders' top moments from 2018.