The beginning of another football season is exciting for any player, but for Kansas City Chiefs' defensive tackle Xavier Williams, this one is particularly special.
After all, it's the Kansas City native's first season with his childhood team.
"It's amazing," Williams said following practice on Monday. "A lot of guys grow up watching their childhood team and dream about getting a chance to play [for them]. A few guys get an opportunity to play in the NFL [in general], but even still, it's rare to get the opportunity to come home and enjoy home-cooked meals and see family. It's just been amazing."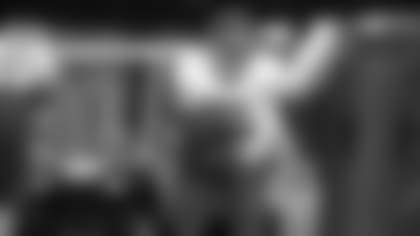 Williams signed with the Chiefs over the offseason after establishing himself as one of the better run-stuffing nose tackles in the NFL as a member of the Arizona Cardinals. Though while the three-year veteran may be a new face on the roster, that hardly seems to be the case following practice each and every day at Training Camp.
"It's funny, people don't really tell me [they're coming], I'll just run into them when we're signing after practice," Williams said. "There was one guy that I went to high school with that just showed up and there's been some friends that played football with my brother right down the road at Northwest [Missouri State University], so it's been interesting.
"There's been a lot of surprises."
"My family is here and [spread out] in the Midwest in general, so I don't really need to travel anywhere to go see anybody," Williams said. "I did all my training here. I'm the kind of guy that if this is where I'm going to be, this is where I'll be the whole time."
And as a native fan, it didn't take long for Williams to recall his favorite experience at Arrowhead Stadium growing up.
"My first Chiefs-Raiders game is my all-time favorite. I think I was in middle school, and I don't remember much about it except for the atmosphere itself," Williams said. "I don't think either of the teams were having a very good year, but when that game came around, nobody cared. It was cranked up to the max and it was just an amazing atmosphere to be in."
It was an experience that resonated with Williams even into his professional career.
"I've played against the Raiders before and it's always a little bit in the back of my mind," Williams explained. "I'll be thinking how I just don't like these guys, and now, being in the red and gold, that will add a whole new dynamic to it. You can really let that emotion well up and flow out of you. If you're going to represent the city, you have to bring it if you're playing against Oakland."
He'll have his chance soon enough.