It's the game within the game – the diligent work in the kitchen that prepares the dinner.
On Monday night, the eventual dinner was the first fourth-quarter, double-digit comeback allowed by the Denver Broncos in 65 games.
And the kitchen, for that matter, was the Kansas City Chiefs' bench.
Surrounded by a raucous crowd, Andy Reid – a head coach for two decades – routinely sat down with his just over two-decade-old wunderkind of a quarterback to talk things over.
It's something that Reid has made a point of doing through Patrick Mahomes' first campaign as a starting quarterback, and it's paying dividends.
"It gives me an opportunity to go over and talk to him. I do a lot of listening when I'm over there, just to see where he's at and see what he's seeing, which is really important," Reid said. "He's got great vision, but [being] on the same page is important. He knows what I'm thinking, I know what he's thinking – [and] he's got great feedback."
"It's extremely valuable," Mahomes added. "Being on the same page, I can be comfortable out there with the plays being called because I've already seen what could be called. Also, being calm enough to know that this [play] is where I can go, I'm never surprised by a call. That stuff makes you extremely comfortable out there and that's how you play fast."
It's a process that Reid has deployed before with young quarterbacks – and with plenty of success.
"I did that with Donovan [McNabb] when he was young early [on], and really, even with Alex [Smith] when he first came here because it was important - he was new to the offense," Reid explained. "I enjoy that part. [Mahomes] gives you great feedback - if you're going over there and it's just, 'Call what you want to call,' then you don't need to do that - but having that open communication I think is good."
And Reid is hardly the only one in Mahomes' ear.
"[Quarterbacks' Coach Mike] Kafka, [Offensive Coordinator Eric] Bieniemy and Reid - all of us are giving ideas to each other and getting on the same page of what we all like against the defense that they are showing out there," Mahomes said. "I feel like it paid off this last week in figuring out what we needed to do to go into the fourth quarter strong."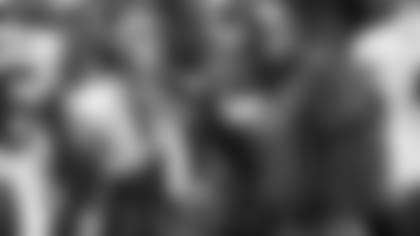 Those adjustments clearly worked, as the Chiefs scored 14 unanswered points in the game's final six minutes to take the lead. After throwing for just 65 yards in the first half, Mahomes completed 13-of-16 passes in the fourth quarter for 153 yards and a touchdown, posting a 127.3 passer rating in the period.
It was the growth of a young quarterback right in front of our eyes - and on national television, no less – but at the root of Mahomes' calm demeanor and dynamic playmaking ability is a stable of coaches, led by Reid, eager to teach.
"I think [the communication] just comes with the relationship and being around him more and more," Mahomes said. "Having meetings with him and making sure we are seeing things the same way. I think it comes natural with the relationship we have."
It's only four games into Mahomes' first season as a starting quarterback, but that relationship is already yielding results.