The Kansas City Chiefs are headed to the AFC Championship Game.
Kansas City defeated the Indianapolis Colts, 31-13, in front of an electric crowd at Arrowhead Stadium on Saturday afternoon to earn their first trip to the conference title game in 25 years.
It will mark the first ever title game in the history of Arrowhead and a chance to play for the Lamar Hunt Trophy, whose namesake founded the franchise.
"[It's] very special, obviously, for our family. It's one of the goals that I always put out for the players at the beginning of the year," said Chiefs Chairman and CEO Clark Hunt. "The first thing we want to do is win that Lamar Hunt Trophy, then we want to go to the Super Bowl and win that Lombardi Trophy. [We're] excited to be able to do it here in Arrowhead and to be able to play for the championship in front of our great fans."
The Chiefs will take on the New England Patriots on Sunday, Jan. 20 for the right to hoist that trophy and advance to the Super Bowl.
It's an opportunity the franchise has been seeking for quite a while, falling short in the postseason by the slimmest of margins over the years, but those memories had no bearing on this particular team as they took the field on Saturday.
"I don't get caught up in any of that. I'm into history - I love history if it makes you better - you learn from it and you move forward. That was the important thing for our guys," said Head Coach Andy Reid. "Don't get caught up on all the stuff that happened in the past, but if there's something that you can learn from it - if it was the play before or the game before - let's make you even greater than you already are. You are one-of-32 in the National Football League, just help make yourself better. That's the approach we went with."
And it worked, propelling Kansas City to its first appearance in the conference title game since the 1994 postseason. It's just another example of how this team - as those in the locker room have said all year long – just feels different.
"We wanted to light up the city," said defensive end Chris Jones. "We didn't want to take the road back down memory lane – first playoff game and we're out. We wanted to light up the city with fireworks and we wanted to keep going. I told them to get used to this feeling."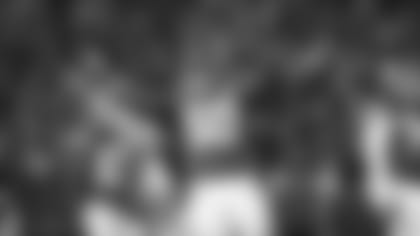 The Chiefs will look to do just that as one of only four teams still playing football this postseason.
"We have two more [games]," Reid said. "We are going to take it one at a time here, which is very important as we go."
The first of those two games, of course, will take place in front of the Arrowhead faithful once again. It's an advantage that can't be ignored.
"It's huge. You feed off of this energy that these fans bring every week," said quarterback Patrick Mahomes. "They're so intense. It really is surreal and crazy. You feel it the moment you step in this stadium. It's an honor and truly an opportunity that we get to play in front of these fans."
"Whatever happens, I'm just glad we are going to be here in Arrowhead," center Mitch Morse added. "I think [the win] is a testament to the crowd today for being so infectious. They had such an effect on the game. I think they can bring that same juice next week."
As Morse suggested, that juice certainly seemed to have an impact on Saturday's outcome.
The Colts – the best team in the NFL on third down – failed to convert a single third-down opportunity in the contest while scoring just seven points offensively.
"They're the loudest when we're out there. They were going crazy and we were going crazy," said safety Jordan Lucas. "The fans mean everything us."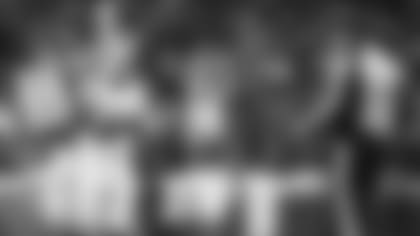 And, conversely, this victory meant just about everything to those who have lived and died with this team for so many years. It's something that Chiefs' punter Dustin Colquitt – the team's longest tenured player - managed to put into perspective following the game while still keeping both eyes on Kansas City's ultimate goal.
"I think it's fun, but we have a lot of work to do," Colquitt said. "This is the fun part – we've finally reached this Divisional Round and we can say, 'Hey, we're playing next week.' I think that's great. We just have to focus on each other and stay together no matter what happens in games. We have four quarters. We always talk about that. Offense, defense, special teams - if we keep putting games together like that, I like our chances."
The Chiefs play for a spot in the Super Bowl next Sunday.