The Kansas City Chiefs are champions of the AFC West for a third year in a row.
The Chiefs defeated the Oakland Raiders for their 12th victory of the season on Sunday afternoon, securing another division title and the top seed in the conference.
"[Our fans] were phenomenal tonight - extraordinarily phenomenal," said Head Coach Andy Reid. "We came of off two losses here and we're getting close to New Year's - it's cold and they could've just stayed home - but they didn't. Everyone showed up and they were incredible. Our players feed off that, and now we have another opportunity to play here. We can't wait to bring whoever [we play] here with our home field advantage."
Indeed, the top seed has been a proven edge over the years. Each of the last No. 1 seeds in the AFC over the past five years have marched all the way to the Super Bowl.
"It's always an advantage to be in this stadium," said quarterback Patrick Mahomes. "For us to be able to get the bye week to get our bodies right and get ready for this run, and then to be able to play in this stadium where we can feed off of this energy, it's special. We're excited for the opportunity to do it."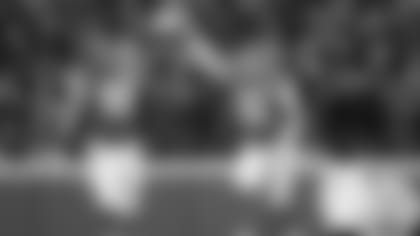 As Mahomes indicated, the Chiefs will have a week off before returning back to Arrowhead to host the lowest seed remaining in the postseason the following weekend.
"It's pretty awesome. We know the ultimate goal, and one of the ways to accomplish it is to get the No. 1 seed and have it run through your stadium," said offensive tackle Mitchell Schwartz. "This is the best place to do that in the NFL with these fans, so I'm just really excited."
"We had a purpose – it was like a playoff game [today]," said fullback Antony Sherman. "When you can play in front of this crowd for the foreseeable future in the playoffs, it's an advantage. We wanted that."
The Chiefs certainly demonstrated that desire on Sunday afternoon, defeating the Raiders by 32 points before donning some fresh new gear commemorating yet another division title, which fans can find here.
It was an excited locker room, but also one that understood that this was just one step toward the ultimate goal.
"Winning the division three times in a row is cool, but with what we did this year, we put ourselves in a position to really go after the gold," said tight end Travis Kelce. "That's the biggest thing on our minds right now – playing three games and coming home with a ring. It starts by getting our bodies right this upcoming week and seeing who we have next."