He stands at just five-foot-eight-inches tall, but make no mistake, Kansas City Chiefs' rookie tailback Darwin Thompson will not be overlooked.
After all, he's been beating the odds his entire life.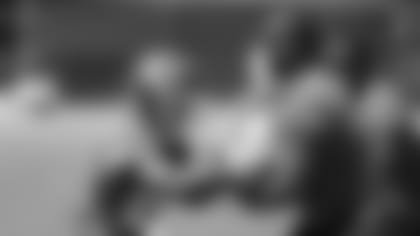 Picked with the final selection of the sixth round in the 2019 NFL Draft last weekend, Thompson has had to prove himself at every turn – from junior college to his one season at Utah State in 2018 – and even back in high school.
"My junior year of high school, the kids told me that I couldn't be a running back because I was too slow and not big enough. After that year, it just never left me," said Thompson, who has less than five percent body fat on his 200-pound frame. "Everybody always asks me how I got my trap [muscles]. It was that one year of high school, I just went crazy on the traps and they never left."
Indeed, it only takes a quick glance to notice Thompson's solid stature. When others questioned his height, he responded the only way he knew how.
"I'm five-foot-eight, so I have to make up for my height somewhere, and I do that in the weight room," Thompson explained. "I think being strong in your lower half and your core is [important]. Look at [Saints' tailback] Alvin Kamara. You can see some of the things he does as far as training and core work - it just starts in the weight room - and eventually, you have to translate that to the field."
It certainly translated for Thompson, who emerged as a star out of the backfield at Jenks High School in Oklahoma. He watched guys like Adrian Peterson, DeMarco Murray and Marshawn Lynch while emulating the work ethic of his cousin – or his uncle, as Thompson calls him – David Thompson, who played football at Oklahoma State and spent three seasons in the NFL.
"If you see my uncle David and you see his body, you'll see where it comes from," Thompson said jokingly.
But despite earning the praise of the local media in Tulsa, the scholarships didn't follow suit. He eventually landed at Northeastern Oklahoma A&M, and even then – despite Thompson's constant results - the doubters made their presence known.
"Once I got into junior college, people would say I couldn't do it and this and that or I was too slow," Thompson recalled. "After that, I really created something where nobody was going to stop me now."
He averaged 6.8 yards per carry – the 13th-best mark in the nation – and earned each and every one of them, evading 48 tackles while picking up 765 yards after first contact, per Pro Football Focus.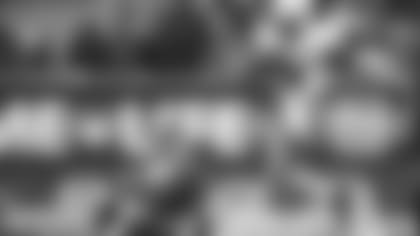 In fact, Thompson's height has even proven to be an advantage in amassing those eye-popping numbers.
"I don't have much to tackle, so I make a lot of people miss," Thompson said. "As they say, they can't tackle me in a phone booth. It's a blessing in disguise."
It was those overwhelming results – in addition to his chiseled physique – that prompted Kansas City to invite Thompson in for a top-30 visit during the pre-draft process.
"You talk about star-struck," Thompson recalled. "When I met Coach Reid, I was like, 'Man, this is a Hall of Fame coach.' Just to be in his system and to see what he's done with other guys at the running back position, it's the perfect situation."
And while he had been overlooked at every stage of his career, when the draft rolled around last month, the Chiefs were not about to make the same mistake.
"He's not the biggest guy, but he's rocked up. He's 200 pounds and kind of looks like a body builder with his shirt off," said General Manager Brett Veach last week. "He has great contact balance…it's really remarkable to see him always keep the ball forward and he's always finishing runs moving forward. He's tough and he can do some things out of the backfield. I think Coach Reid and the offensive staff are going to have a lot of fun with him."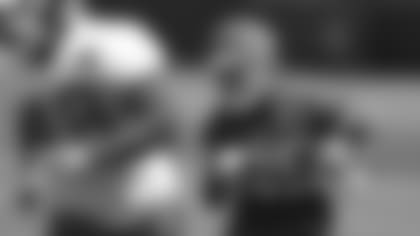 Of course, the work has just begun. Thompson is one of 72 players competing in Chiefs' Rookie Minicamp this weekend with the goal of eventually making Kansas City's roster come August.
That's no easy task, but if his history has demonstrated anything, Thompson is certainly up for the challenge.
And after a lifetime of beating the odds, he's not alone.
"I'll always keep that chip on my shoulder, but I don't do it so much for people that doubt me – it's more for the people that are inspired by me," Thompson said. "It's much more than just about me now. I have kids that look up to me from my city, and I'm happy to represent them."