It was another busy week for the Kansas City Chiefs, both on and off the field.
For one thing, Chiefs.com has a brand new look.
The Kansas City Chiefs launched a brand-new website Tuesday morning, unveiling an updated and mobile-optimized website at Chiefs.com that should improve the user experience for fans visiting the site moving forward.
The Chiefs are part of the second wave of NFL teams that are switching over to this new design. All of the teams will be switched over to the new look by training camp.
"This is about efficiency and staying up on the digital trends," Chiefs' Executive Vice President of Business Operations Tyler Epp explained. "We're always looking for ways to improve what we're doing and how we're providing information to our fans, and the NFL has done that with this new website design.
"We're excited about what this change will allow us to do here with the Chiefs moving forward."
On the field, Organized Team Activities (OTAs) wrapped up as the season inched closer by the day.
Chiefs' Head Coach Andy Reid and quarterback Patrick Mahomes spoke to the media on Thursday about the progress the team has made so far this summer.
"I think we're progressing really well," said Mahomes following practice on Thursday. "Just from the [first] OTA to now, I feel like guys are starting to get on the same page. We're able to almost adjust routes and I'm throwing the ball before because we're on that same page, so I'm excited for that. We're going to keep getting better every single day."
For more on Mahomes' development, click here. And for a transcript of Reid's press conference on Thursday, click here.
One of Mahomes' primary targets throughout OTAs was wide receiver Sammy Watkins, who is fitting in nicely after signing a multi-year deal with Kansas City earlier this offseason.
Veteran playmaking receiver Sammy Watkins, who signed a lucrative multi-year deal with the Chiefs as an unrestricted free agent this offseason, is loving his time in Kansas City thus far, both on and off the field.
"When you sign a big contract—some guys can look at you different, but these guys welcomed me in," Watkins explained of joining the Chiefs. "I'm naturally—not shy, but a quiet guy, reserved, and I can actually joke around and have fun with these guys and no one is taking it personally. I think that's the good part.
"I've actually opened up now more than in the past previous years where I was like, 'I'm not talking to nobody, I'm not dealing with nobody.'
"I have fun with these guys."
Watkins is joined on offense by a host of young playmakers, two of which were honored by their peers last week with spots in the annual NFL Top 100 rankings.
On the other side of the ball, the Chiefs opted to divide linebacker coaching duties between two individuals this year.
Last year, both the inside and outside linebacker positions worked together under long-time assistant coach Gary Gibbs, who is not returning for the 2018 season.
The Chiefs now have both an inside linebackers coach in Mark DeLeone, who was the assistant linebackers coach last year, but they now also have an outside linebackers coach in Mike Smith, who was the assistant defensive line coach last season.
With this change, the players can now have more focused time on their specific positions.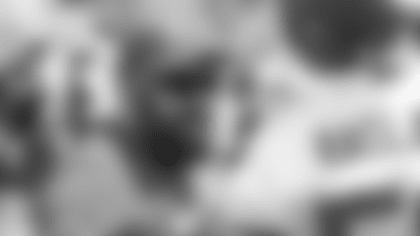 In other news, kickoffs will look a bit different next season. Special Teams Coordinator Dave Toub, kicker Harrison Butker and coverage ace Anthony Sherman provided their thoughts on the NFL's recent rule change.
The efforts of all three of the aforementioned units – offense, defense and special teams – will look to secure the Chiefs a spot in the playoffs next year. The folks at NFL.com provided five reasons why they believe Kansas City can do just that.
Count Season Ticket Members Brett and Jack Groennert among those rooting for that to happen. The father and son will be two of the thousands that make their way to Arrowhead for every game next season, the only difference is that they'll be making the weekly drive from St. Louis.
"We were Rams fans, being from St. Louis, but we always followed the Chiefs just because they're from Missouri. We love football and the organization is fantastic, so [when the Rams left], it was pretty easy to [adopt the Chiefs]," Brett explained. "Great players, great organization…it's worth the drive."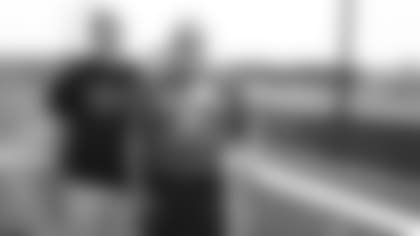 Additionally, the Groennert's – along with two other lucky Season Ticket Members - were invited to attend practice and digital production day last week.
Finally, the Chiefs welcomed hundreds of new Season Ticket Members to the family on Thursday.
They came from far and wide, clad in their game day attire, for an evening that they wouldn't soon forget.
It was the annual Rookie Season Ticket Member Event at Arrowhead Stadium on Thursday, where over 300 new Season Ticket Members filed in for a chance to meet the Chiefs' rookie class, General Manager Brett Veach and Voice of the Chiefs Mitch Holthus, all the while learning about the benefits of their membership.
Attendees ranged from a couple who flew in all the way from Oregon to a family motivated by the courage of Eric Berry, with hundreds of stories in between.