The 2022 NFL Draft is only one month away, and as it inches closer, the hype and excitement surrounding this year's event is only going to heat up.
Over the next several weeks, we're going to take a look at some position groups in this year's class while examining a handful of names to know. Here's the positions that we've covered so far:
And let's continue with another deep position in this year's draft: edge rusher.
Chiefs' Edge Rushers Under Contract for the 2022 Season: Frank Clark, Mike Danna, Joshua Kaindoh, Malik Herring, Austin Edwards and Jonathan Woodard.
Five Names to Know
This particular draft is rich in talent at edge rusher, and it's likely that two players in particular – Michigan's Aidan Hutchinson and Oregon's Kayvon Thibodeaux – will each be selected within the top five picks. Another player, Travon Walker from Georgia, is also a near lock to hear his name called in the upper half of the draft.
This article, however, will focus on five other edge rushers who could be available anywhere from the backend of the first round to somewhere on Day 2. Additionally, some players feature analysis from the folks at Pro Football Focus, ESPN and NFL.com.
George Karlaftis – Purdue University
Measurables: 6-foot-4, 275 pounds
Snapshot: A big man who possesses the versatility to play all over the defensive line, Karlaftis wins with his power and often bull-rushed right through opponents. He's tough, too, and rarely came off the field last season. In fact, Karlaftis recorded at least 49 snaps in all but one game last year.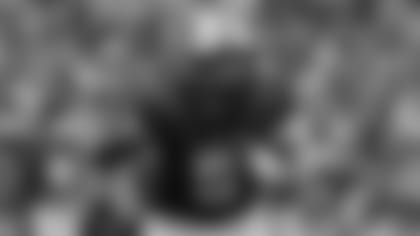 PFF Analysis: "Karlaftis wins by bringing it snap after snap. He doesn't have to come off the field, he can line up anywhere along the defensive line and he can still consistently make an impact."
PFF Comparison: Courtney Upshaw
Jeremiah's Analysis: "Karlaftis has outstanding size, power and instincts off the edge, but he doesn't have ideal length. As a pass rusher, his best weapon is converting speed to power. He explodes upfield before jolting tackles with his hands and powering through them. He also will flash a nifty arm-over or spin move on occasion. He has a GPS system to feel and locate the QB once the passer tries to escape the pocket. Even if Karlaftis gets stuck early in the play, he refuses to stay blocked and creates late pressure. He isn't a bendy/loose athlete at the top of his rush, though. Against the run, he sets the edge easily against single blocks and he shoots gaps to split double teams. Overall, Karlaftis reminds me a lot of another former Boilermaker, Ryan Kerrigan."
Post-Combine ESPN Analysis: "Karlaftis came out red-hot to start the 2021 season but did fade down the stretch. Now scouts will have to decide which player he is. An impressive combine performance should help his cause. A 38-inch vertical and a 10-foot-1 broad jump were great starts to highlight his explosion. His 21 reps of 225 pounds in the bench press pointed to his strength. And while he chose to not run a 40-yard dash at the combine, his position drills showed a smooth mover who looked more like the pass-rusher who had eight pressures in Week 1," wrote analyst Matt Miller. "Other pass-rushers have received more buzz, but if you watched the NFL playoffs, you saw the impact someone like Trey Hendrickson can have. That's my player comparison for Karlaftis, and it's why I think he can have a huge Year 1 impact."
Jermaine Johnson – Florida State
Measurables: 6-foot-5, 262 pounds
Snapshot: A transfer from the University of Georgia, Johnson broke out in a big way during his lone season with the Seminoles. He racked up 14 sacks and 46 total pressures last season, excelling as both a pass-rusher and as a run-defender.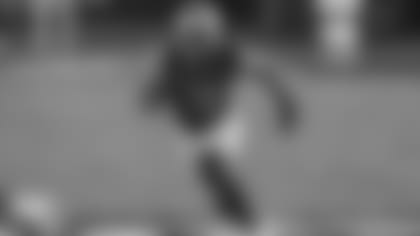 PFF Analysis: "Johnson wins with length and leverage. He is the best pure edge-setter in the run game in the class. As a pass-rusher, he already has a number of moves, including a deadly Euro-step hesitation to the outside."
PFF Comparison: Daeshon Hall
Jeremiah's Analysis: "Johnson transferred from Georgia to Florida State for his final college season and put up monster numbers for the Seminoles. He has ideal size, length and quickness. As a pass rusher, he has a quick get-off, but he needs to lengthen his stride and gain more ground. He uses his length to snatch/pull tackles to collect sacks. He also has a steady bull rush to walk tackles back to the quarterback. He does have hip tightness when he gets to the high side of his pass rush. Against the run, he uses his length to keep blockers away from his frame and he sets the edge consistently. He runs well and his effort is very good on the back side. Overall, Johnson should be a three-down player early in his career."
Post-Combine ESPN Analysis: "Continuing to build off his momentum from the Senior Bowl, Johnson showed off his explosiveness with a 4.58-second 40 time that included a 1.55 10-yard split. His quick first step out of the starting blocks held true. His value will come with rushing the passer, but one of the best parts of his game is his run defense," wrote analyst Jordan Reid. "Outside of Travon Walker, Johnson is the best run defender of this year's edge crop. But he entered foreign territory with the wave drill and others where he was tested with dropping in coverage on Saturday. With a blend of versatility as a pass-rusher as well as remaining firm at the point of attack, he is likely to be a top-15 pick."
Arnold Ebiketie – Penn State
Measurables: 6-foot-3, 256 pounds
Snapshot: Originally a Temple star, Ebiketie transferred to Penn State ahead of the 2021 campaign and showed out in a big way. He tallied 52 pressures on the season while recording multiple pressures in every game, proving that his success at Temple was no fluke.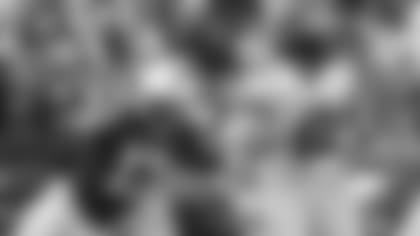 PFF Analysis: "Ebiketie wins with savvy and hand usage. The way he plays the edge position just looks like the way a veteran in the league plays. From that standpoint, the learning curve for him may not be too steep."
PFF Comparison: Charles Harris
Jeremiah's Analysis: "Ebiketie is a long, twitched-up edge rusher with a nonstop motor. He has an explosive get-off and routinely rocks offensive tackles with the power in his hands. He charges upfield before powering through the outside shoulder. He also has a violent swipe move and will occasionally cross the face of the tackle with a nifty inside counter move. He can really corner and finish at the top of his rush. He isn't as dominant against the run, however. He ducks his head too often and gets washed by OTs and TEs. He lacks ideal block awareness, too. Still, the effort is always there to hustle and chase from the back side. Overall, Ebiketie is a gifted rusher who should rack up pressures/sacks while he learns to play the run with more consistency."
Post-Combine ESPN Analysis: "Ebiketie jumped 38 inches in the vertical and 10-foot-8 in the broad jump, but he opted not to participate in the 40-yard dash. His movement skills were easy to see as he went through multiple on-field drills. Staying tight to the bags, he was able to show off his ankle flexion and loose hips when turning," wrote analyst Jordan Reid. "He's another prospect who can play from both a two- and three-point stance but seems to be the most comfortable with standing up. Likely a 3-4 outside linebacker, he understands how to generate constant pressure even though he doesn't always finish plays with sacks. The Nittany Lions have been known to produce high-level players, and Ebiketie seems to be the next one in line."
Boye Mafe – University of Minnesota
Measurables: 6-foot-4, 265 pounds
Snapshot: Mafe recorded seven sacks and 42 total pressures last season for Minnesota before impressing in a big way at the Senior Bowl.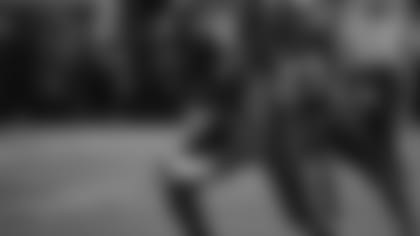 PFF Analysis: "Mafe was a massive riser after he earned the highest pass-rushing grade among edge defenders during the Senior Bowl practices. He's an ascending player who possesses one of the best get-offs in the class."
Jeremiah's Analysis: "Mafe is an ascending edge rusher with an enticing blend of speed and power. He steadily improved throughout the season, culminating with an outstanding performance at the Reese's Senior Bowl. As a pass rusher, he has an explosive first step and his hand usage has started to come together. Early in the year, he was thinking too much and segmented in his movement. But as the season went on, he played much faster and connected his feet and hands. He can generate speed to power, and he is an excellent finisher once he gets to the top of his rush. He can stack blocks and hold the point of attack in the run game. Overall, Mafe is still a raw prospect, but he's trending in the right direction and provides double-digit sack upside."
Post-Combine ESPN Analysis: After a strong performance at the Senior Bowl, Mafe put his pass-rush prowess and quickness on display again," wrote analyst Jordan Reid. "At 6-foot-4 and 261 pounds, he recorded a 4.53-second 40 time. He marries his hands with his feet and displays a full rolodex of moves, and his upside as a pass-rusher is through the roof. He still has some room to improve, but because of explosiveness and ability to get to the quarterback, he's a candidate to be selected at the back end of the first round."
Nik Bonitto – University of Oklahoma
Measurables: 6-foot-3, 240 pounds
Snapshot: A pure speed rusher, Bonitto recorded multiple pressures in every game the past two seasons while tallying 16 total sacks in that span.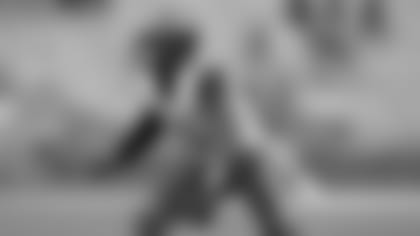 PFF Analysis: "Bonitto may be a designated pass-rusher at the NFL level, but he'll be a weapon in that regard from Day 1. He's been the most productive pass-rusher on a per-snap basis over the past two seasons, earning a 93.6 pass-rushing grade in 2020 and a 92.5 pass-rush grade in 2021."
PFF Comparison: Haason Reddick
Jeremiah's Analysis: "Bonitto was a loose, explosive and versatile defender for the Sooners. Against the pass, he has excellent snap anticipation and burst to win right away. He can really dip, bend and close at the top of the pass rush. He is fluid and fast in everything he does on the field. He has shown the agility to peel off and mirror tight ends in coverage, too. Oklahoma used him quite a bit to spy athletic QBs. Bonitto explodes to the alley and collects tackles when those QBs attempt to take off. Against the run, he needs to win with quickness. He will get pushed around and give up the edge. Overall, Bonitto is an exceptional athlete with pass-rush production and cover ability. If he adds some strength, he could emerge as a Pro Bowl talent."
Post-Combine ESPN Analysis: "An area scout who covers Oklahoma has been telling me for weeks that I'm too low on Bonitto. I think he was right," wrote analyst Matt Miller. "The Big 12 leader in pass rush win rate turned heads with a 1.54-second 10-yard split and a 4.54-second run in the 40-yard dash at an impressive 6-foot-3 and 254 pounds. The flashes on tape are there for Bonitto, but now he has the numbers to back up his production against Big 12 offensive tackles. Bonitto best projects as a wide-9 or 3-4 pass-rusher coming off the edge. Following a strong workout, he's one of the big moneymakers from the combine."