A photograph can be a powerful thing.
It has the ability to capture the raw emotion of a singular moment – whether that be a game-winning touchdown or a fan experiencing their first trip to Arrowhead Stadium.
We began exploring some of those moments from the 2018 season last month and will continue to do so over the next week along with commentary from Chiefs' photographer Steve Sanders.
Sanders, who has been on the job for over 20 seasons, hand-selected each of the photos in this collection as his personal favorites.
Here's a look back at what we've covered so far:
We'll continue with No. 2: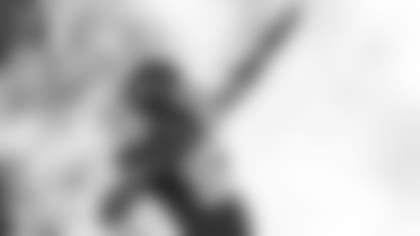 Location: Arrowhead Stadium in Kansas City, Mo.
The subject: Chiefs' tight end Travis Kelce fires an imaginary arrow into the sky prior to Kansas City's victory over the Arizona Cardinals.
Model: Canon EOS-1D X Mark II
On why he included it in this collection: "This is one of my favorite pictures of the year for several reasons: the way he's looking up into the sun, the smoke from the pyro cart is filling the background and his arms are perfectly framed as he shoots his arrow up into the crowd," Sanders said. "I also like how the logo on the helmet is looking right at the camera. I just think it's a really nice picture of Travis."
On capturing the players' pre-game routines: "It sometimes takes a few games to kind of figure out what they're going to do," Sanders explained. "Since we alternate offense and defense during the pre-game announcements, you only have four chances at each group. You have to learn what they're going to do and put yourself into a position to get that. When we're assigning this amongst the photographers, we try to spread everybody out so that we all get a different kind of shot. Sometimes, you try to shoot something different every week. You just have to be ready for the intros to happen, and the smoke and the fire are always different. He just happened to drift out of the smoke and the wind was working – everything just came together for this particular photograph. But when things change, you just have to be prepared to adapt."
Check back next week for Sanders' top moment from 2018.