A photograph can be a powerful thing.
It has the ability to capture the raw emotion of a singular moment – whether that be a game-winning touchdown or a fan experiencing their first trip to Arrowhead Stadium.
We began exploring some of those moments from the 2018 season last month and will continue to do so over the next few weeks along with commentary from Chiefs' photographer Steve Sanders.
Sanders, who has been on the job for over 20 seasons, hand-selected each of the photos in this collection as his personal favorites.
Here's a look back at what we've covered so far:
We'll continue with No. 3: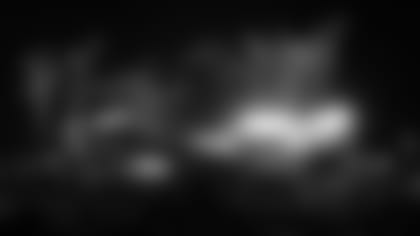 Location: Arrowhead Stadium in Kansas City, Mo.
The subject: Fireworks soar above Arrowhead Stadium prior to Kansas City's Sunday Night Football matchup with the Cincinnati Bengals. The Chiefs won, 45-10.
Model: Canon EOS-1D X Mark II
On capturing this photo: "Sam was a new member to our team this year, and he kind of specializes in scenic photos. We knew that there was going to be a great fireworks display that night, so I positioned Sam out on a hill and told him to stay out there, wait for whatever happens and do his best. He came back with this," Sanders said. "This was one of our best stadium shots of the year. He held the exposure so that the fireworks traced in the sky and it all just came together."
On what it means to "hold the exposure" on a photo: "Fireworks are typically so much brighter than everything else that's going on, so there are a couple different ways to attack it," Sanders said. "With this, he held the exposure open so as the fireworks went up in the sky, they would stay traced for the duration of the shot as opposed to trying to get a bunch of little pictures and put it all together. This was all done on one frame over the course of five and a half seconds."
Check back next week for another one of Sanders' top moments from 2018.