A photograph can be a powerful thing.
It has the ability to capture the raw emotion of a singular moment – whether that be a game-winning touchdown or a fan experiencing their first trip to Arrowhead Stadium.
We began exploring some of those moments from the 2018 season last month and will continue to do so over the next several weeks along with commentary from Chiefs' photographer Steve Sanders.
Sanders, who has been on the job for over 20 seasons, hand-selected each of the photos in this collection as his personal favorites.
Here's a look back at what we've covered so far:
We'll continue with No. 4: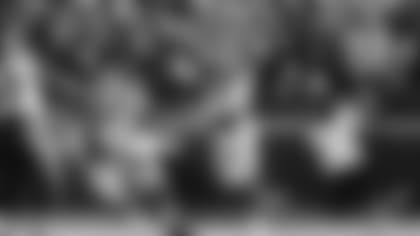 Location: Arrowhead Stadium in Kansas City, Mo.
The subject: Chiefs' quarterback Patrick Mahomes slings a no-look pass in Kansas City's victory over Baltimore. The pass became a viral sensation soon afterwards.
Model: Canon EOS-1D X Mark II
On capturing this photo: "It was pure luck that I caught this because I normally don't shoot from the end zone," Sanders said. "I just happened to have moved to the end zone because they were coming toward me, and even though he wasn't looking where he was throwing, I just happened to stay on Patrick. The result was this crazy picture that everyone started talking about."
On staying focused on Mahomes rather than where his eyes were looking : "I think it happened so fast that I didn't necessarily expect him to throw it because nobody seemed open. Then, all of a sudden, the ball came out in the other direction," Sanders said. "It's one of those things where I was in the right place at the right time. It goes to show that you can't ever give up on the shot."  
On what went through his mind when he realized he captured this moment: "I didn't even realize I had it until I was looking through the gallery after the game and saw that one of the editors had posted it," Sanders said. "I even asked, 'Who shot this?' After I looked at it, I realized that I had shot it. It was great to get something like that. I just tried to concentrate on the catch and what happened later – I didn't even think of it as a big moment at the time."
Check back next week for another one of Sanders' top moments from 2018.