It's been a busy couple of weeks around the NFL as the arrival of the new league year has brought about plenty of change up and down every team's roster, and the Kansas City Chiefs are no exception.
In this edition of Chiefs by the Numbers, let's take a look at what Kansas City has done in free agency so far.
The Chiefs signed 15 players to Reserve/Future contracts following the season, which are used on players that were not on another team's active roster at the time of the signing. These deals generally lock up young players who have flashed potential but haven't had much of an opportunity to show what they can do at the professional level.
They might not receive much fanfare at the time, but it's not uncommon for Reserve/Future signings to make an impact. In fact, just last season, offensive tackle Andrew Wylie – who signed with Kansas City on a Reserve/Future deal last offseason – played in all 16 games and won the Chiefs' Mack Lee Hill Award as the team's rookie of the year.
Fans may recognize a handful of this year's names, as several of them spent time on the Chiefs' practice squad in 2018.
Here's a look at all 15 of the Chiefs' Reserve/Future signings this year:
In addition to those 15 Reserve/Future deals, the Chiefs also signed six players to contracts before the beginning of the new league year on March 13. This is permissible for players that were not under contract with another team at the time of the signing due to either not playing in 2018 or being released.
Here are those six players:
Quarterback E.J. Manuel (Feb. 22)
Defensive Back Dontae Johnson (Feb. 22)
Wide Receiver Sammie Coates (Feb. 22)
Wide Receiver Davon Grayson (Feb. 22)
Safety Harold Jones-Quartey (March 7)
Running Back Carlos Hyde (March 9)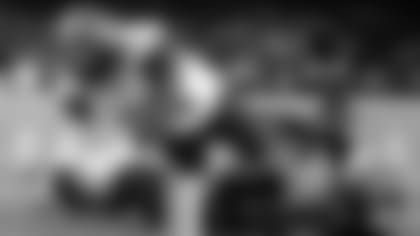 Manuel and Hyde are the most accomplished of that bunch in terms of NFL production, but all seven players will foster competition on the roster when Organized Team Activities begin in May.
For more on Hyde, who rushed for nearly 1,000 yards as recently as 2017, click here.
Once the new league year rolled around on March 13, players with expiring contracts were eligible to sign elsewhere. Kansas City made four additions in that market, signing the following four players:
Mathieu, a former All-Pro, is the biggest name of the bunch, but for more on each of those players, just click on their name.
It's certainly an exciting time of a year with so many new faces on the roster, and as General Manager Brett Veach said just last week, the work is far from over.