One Kansas City Chiefs football season.
That's all it took for Josh Thomas and Kayla Vice to know they wanted to spend the rest of their life going to Arrowhead Stadium together.
Thomas and Vice met in person at the last 2016 preseason game in September.
Four months later, before the playoff game against the Steelers in January, Thomas got down on one knee.
And every relationship milestone in between has happened at Arrowhead.
But before Arrowhead, there was a bold Facebook request from Vice.
Vice broke the "he can text me first" barrier when she added Thomas as a friend, only having met one of his friend's prior. She had seen Thomas in some photos and messaged him.
"I just took a chance," Vice said. "I saw he liked the Chiefs and knew we'd hit it off there."
To prove it really is a small world after all, not only are Thomas and Vice both from St. Joseph, Missouri, their parents are friends, too.
"We grew up in the same town just a few years apart, and our dads are long time work buddies that used to play softball together," Thomas explained.
After talking on Facebook for two days, the next Chiefs game arrived and they set up to meet at his tailgate.
Both Thomas and Vice confessed they were pretty nervous to meet in person.
"I went with a few work buddies and always go all out with the tailgate experience," Thomas said. "It was a bit stressful showing my interest in her and managing the setup, cooking and tailgate games all going."
For Vice, seeing the all-out tailgate only calmed her nerves.
"I walked up and saw him in these super long Chiefs socks with his Chiefs shirt on, and he even had Chiefs corn hole all set up and a Chiefs tent," Vice said. "I instantly felt better and thought okay, he's a crazy Chiefs fan like me."
Despite originally having separate seats, Thomas and Vice found each other at halftime and watched the rest of the game together.
"I think it's more about the atmosphere and the whole Chiefs experience that allowed us to just be normal and enjoy something that comes so natural," Thomas said. "I don't think we would have kicked it off so well if it wasn't through the Chiefs and Arrowhead Stadium."
And from there forward, Arrowhead started harboring their most-special moments from their first kiss to the first time Thomas told Vice he loved her.
So then it only made sense he would propose to her there as well.
Thomas has been in the military for fifteen years and was leaving again the day after the Chiefs' playoff game against the Steelers for military obligations.
"I was leaving for a four week trip literally the next day and I wanted to be 'official' before I was gone again for a long period of time," Thomas said. "I had bought the ring and made the arrangements, including asking her dad a few weeks earlier when I was on travel in Texas."
And Vice was just thinking it was a typical tailgate until right before they headed into the stadium.
"He walked me over to the back of his tailgate on his truck and I saw the cake," Vice said.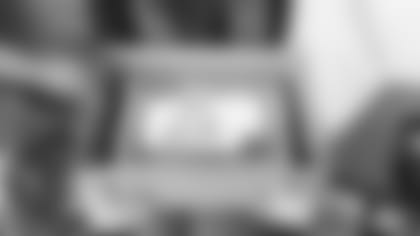 The cake said, "Will you marry me, Kayla?" And, of course, it was in Chiefs' colors.
"Then he turned me around and got down on one knee," Vice said. "It was freezing rain and he just proposed right then and there."
The couple was back to Arrowhead for the first time since their engagement for Monday Night Football against the Redskins.
Thomas said Arrowhead is their starting place, and a place where they can get away from the daily stressors of life and truly enjoy these moments.
"Arrowhead, to me and our relationship, is home," Thomas added.
They're not the first Chiefs couple to think that, and they won't be the last.
Oh, home sweet Arrowhead.