Taylor Gabriel wasn't always the hottest name in the National Football League. He wasn't always someone the Kansas City Chiefs needed to look out for in an upcoming matchup, the wide receiver whose five touchdowns in the last four games would make opposing defensive coordinators cringe.
In 2014, all he was, was just like Charcandrick West—an early 20-something college football player at Abilene Christian University, a school just one year into its Division I tenure. And, with that being the case, both players were certain of one thing.
Their Pro Day performances—the scores in the books, the chats with the scouts and the readings on the stopwatches—they mattered.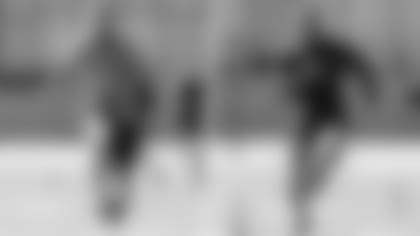 When it was time for the 40-yard dash, Gabriel went first, by the scouts' request, into strong wind.
The same, exact, to-the-hundredth-of-a-second 40-yard dash time.
Maybe it caught the scouts off guard, but hardly anyone who knew Gabriel and West was surprised.
For the last two years, they had rarely left each other's side.
"Junior year, we became real tight," West recalled this week. "Double dates. Everything. We did everything. It was me and him—that was all we had."
West, who Gabriel explained he calls "Moosey," as only his closest friends and family do, first caught his attention based upon the desire he had to change his life—West hadn't grown up in the best of hometowns, and he knew through his love for football, he could alter his path.
"His story, how he got there and his hunger was something I could vibe with," Gabriel said. "It's been history ever since."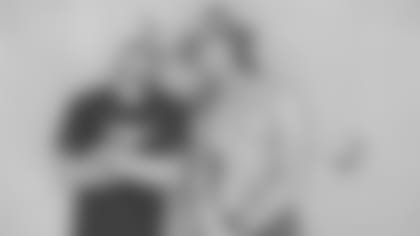 From junior year forward, they lived next door to each other in a student-housing apartment called "The Grove." Close in proximity, they could ride together to get meals in between practice or go to the gym to train. No matter what they were doing, they pushed each other, and that may be one of the reasons they got along so well.
"The thing about me and Taylor, we competed at everything," West said. "I don't care if we were walking to the bathroom—we were going to see who was going to get there first."
They say that they grew so close that their families became one and the same. They would visit each other's hometowns—Gabriel's in Mesquite, Texas, and West's in Cullen, Louisiana.
Demetrice West, Charcandrick's mother, played an especially significant role in the life of Gabriel, who had tragically lost his own mother at the age of 16 to a brain aneurysm.
"She's been a big part of it, just loving me and bringing me into their home," Gabriel said. "I spent the night over there at her house many times. Every time she came down [to school], she would cook for me, Charcandrick and the family, so I really felt a part of their family. Every time I went down there [to her house] she would cook for me meals that I would eat.
"She supported me like a mother. I would call her, 'Mama.'"
In the fall of 2013, their senior season, their bond extended to the football field, where they were definitively the best players on the Abilene Christian football team, combining for more than 2,400 yards from scrimmage, including 906 yards rushing for West and 1,060 yards receiving for Gabriel. The duo finished with a staggering 26 combined touchdowns.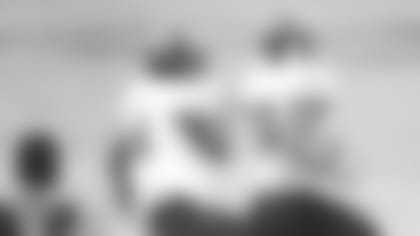 Not wanting their careers to end when the season was over, they left school early and signed with the same agent—Scott Casterline.
"We had no money, no nothing," West said. "All we had was each other."
Gabriel and West moved in together in Dallas so that they could continue conditioning together leading up to the NFL Draft.
"We depended on each other to eat and to train – things like that," Gabriel said. "We really worked with each other. We were literally brothers for that period of time that we were staying together. We were with each other every day."
As the story goes, the draft came and went, and Gabriel and West were not selected. But on the same day in mid-May of 2014, they received separate phone calls.
Both were headed to rookie minicamp on a tryout basis.
"The same day—it was crazy," West said. "We were just like, 'We're getting our chance—we got to go make the most of it.' I got off the phone with the Chiefs and called him—he had got off the phone with the Browns."
The Browns immediately used Gabriel, who played in 16 games as a rookie in 2014 and another 13 in 2015. Though compiling more than 1,000 yards during his two-year Browns tenure, the team released him prior to the 2016 season.
The Falcons and offensive coordinator Kyle Shanahan, who had worked with Gabriel during his rookie season in Cleveland, claimed him off waivers.
The Falcons used Gabriel sparingly to begin this season, but over the past four games entering Sunday, he has become someone Matt Ryan routinely looks for, accumulating 271 yards through the air.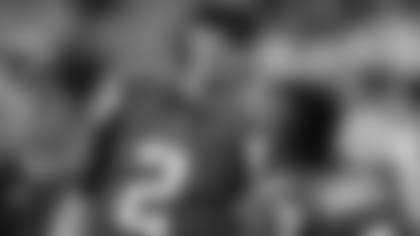 "He's very fast and very explosive," Chiefs defensive coordinator Bob Sutton said Thursday. "I think he's really coming on as a player for them. He's a guy that can catch something short and turn it into something big. He's a guy that can run by you and he's a guy that can get it on the reverses and all that. … Some guys are fast and don't have quickness, but he's got it all, so he's a legit guy for us."
West has loved seeing Gabriel in the midst of such a breakout season, something he accomplished last year when the Chiefs lost Jamaal Charles in Week 5 and Andy Reid gave him the call.
"He's been doing good—I'm so proud," West said. "We expect it from each other, so what he's doing now, I expect that from him every time he catches the ball."
Gabriel and West are integral parts of their NFL teams now, meaning the only time they get to spend with each other is via FaceTime, which they say happens about every other day.
The two still live together in Dallas, where they work every offseason to ensure they never wake up from this dream they have shared for so long.
On Saturday, when the Chiefs' team plane arrives in Atlanta, they plan to have a meal together, before a single, solitary day when for three hours they will have rare opposite agendas in mind.
Ever competitive, Gabriel and West say they have a friendly wager going for the game—whoever has fewer yards has to take the other on an all-inclusive trip this offseason.
But in their nature, going all the way back to that Pro Day in Abilene, you'd be foolish to expect anything else than a tie.