Nearly 200 kids representing every inch of the metro – from Kearney to Overland Park – learned the fundamentals of football from the experts on Wednesday afternoon as the Kansas City Chiefs Ambassadors held the second-annual Legends Youth Camp at Arrowhead Stadium.
The camp – which was made possible by the folks at Window World – encompassed a full day consisting of on- and off-field coaching from Chiefs' alumni spanning a range of generations.
From live-action drills to character-building pep-talks, it was certainly a day to remember for every kid in attendance.
"I still get goosebumps when I come out on this field, so I can imagine what it's like for these kids to come out here and know that Patrick Mahomes runs around on this field – or Travis Kelce or Chris Jones," said Ambassadors President Tim Grunhard. "It's really special to have these kids – especially kids from the Kansas City area – coming out on the field, enjoying Arrowhead, enjoying some of the Ambassadors here and just having some fun."
The Chiefs' Ambassadors are the only group of their kind in the NFL, representing a collection of former players who chose to stick around in Kansas City and give back to the community that supported them during their playing years. All net proceeds from this week's camp benefitted the Ambassadors Charitable Foundation, which supports non-profits throughout the metro.
"It's a no-brainer for us," Grunhard said when asked why the Ambassadors care so much for Kansas City. "Part of our responsibility is to give back to this community when the current players are busy working hard at practice. They're over at OTAs right now getting ready for the season, so our job as Ambassadors is to keep the momentum going out here in Kansas City."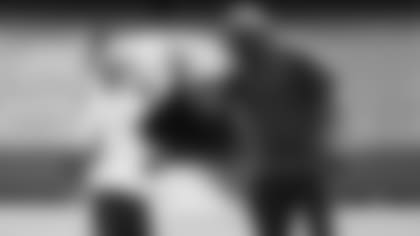 That includes the Legends Youth Camp, and who knows, perhaps a future member of the Chiefs took the field on Wednesday. 
"This is the first step," Grunhard said. "This is great opportunity for these kids to come out here on a summer day - and that's the first step if they want to make a career out of some sport – but it's also just about coming out here, making friends and learning how to make relationships. That's what life is all about."
To learn more about the Chiefs Ambassadors, click here.