Football returned to Arrowhead Stadium on Saturday night as the Kansas City Chiefs kicked off the preseason against the Cincinnati Bengals, but for a 35th consecutive year, this particular game was about much more than the final score.
It was the Chiefs Charity Game – recognized as the top philanthropic game of its type in the NFL – and for a second-straight year, the contest helped support the critical work being performed at Cornerstones of Care.
For more than 20 years, Cornerstones of Care has partnered with children and families in an effort to create safe and healthy communities throughout the Greater Kansas City area, and at halftime, Chiefs Chairman & CEO Clark Hunt and his wife, Tavia, presented the non-profit with a check for $550,000 to aid that mission.
"We're so excited to be the beneficiary of the Chiefs Charity Game. It's really a chance to highlight what we do and the needs that our children and families have in this community," said Denise Cross, President & CEO of Cornerstones of Care. "The opportunity to bring awareness, highlight the important work that our staff is doing every day and the incredible work of our foster parents is so special, because they really are the true heroes in all of this."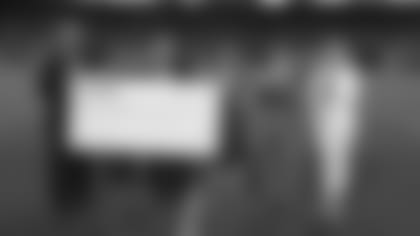 The Charity Game Fundraiser, which was presented by North American Savings Bank on Saturday, has raised more than $13.7 million since its inception in 1985 and nearly $1 million in just the last two years alone for Cornerstones of Care, directly contributing to their efforts right here in Kansas City.
"These funds will help support our new pediatric clinic that we're opening, they will improve our services on our residential campuses and support our quality and safety measures across the organization," Cross explained. "They will impact services and programs that we currently operate and some new things that we're going to be doing."
It's certainly a cause worth supporting.
Cornerstones of Care aids children, young adults and families to achieve safety and health through a variety of areas, including education, mental and behavioral health, foster care and adoption, youth support, family support and community trainings. Annually, Cornerstones of Care serves more than 7,000 children and families in Kansas, Missouri and beyond.
And now with another successful edition of the Chiefs Charity Game in the books, that impact will soon be even greater.
"Our organization just feels proud," Cross said. "We feel proud to be associated with the Chiefs and our families are so excited. Just to have that celebration of hope while working together for the good of our community is a real experience and a point of pride for all of us."