On home Sundays in the fall, time and time again, Kansas City Chiefs fans have proven that all you need is a grill and great company. It's a tradition that spans since before the mid-1800s. 
Some may call it a pastime, but to many in the Kingdom, it's like a religion.
Tailgating is part of the culture for those who fill the seats of Arrowhead Stadium, and each week, the Kansas City Chiefs will highlight an upcoming matchup-themed recipe. So whether you're filling the lots at Arrowhead or catching your Chiefs from the comforts of your own home, you'll have a suggestion to make your Sunday's a little bit better.
If you missed our Week 14 tailgate item, you can find it here!
In addition to being the center of the country music world, Nashville also serves as home to the Tennessee Titans. Nashville has a variety of fun restaurants and matching cuisines. Fried chicken is a favorite in local restaurants, homes and, of course, tailgating outside Nissan Stadium.
This week's Chiefs Eats features "Fried Chicken Tenders and Waffles, served with a Macaroni Salad," presented by Hy-Vee.
1 -25 oz. bag of Tyson crispy chicken strips (fully cooked, can be reheated in the oven or microwave)
2 - Pre-made Eggo waffles per person (might want extra)
1 LB macaroni noodles, cooked and chilled
4 oz. Dijon honey mustard
1 medium yellow onion, peeled, small diced
6 oz. cheddar cheese cut into 1/2 inch cubes
3 oz. red bell pepper, seeded and minced
1 bunch green onions, cut finely on the bias (on the bias means sliced on an angle cut)
Precook the noodles in salted boiling water. Check the noodles for doneness and stir periodically to make sure they don't stick. Chill down the noodles before you start putting anything together.
Add the mayo, mustard, celery seed, onions, cheddar cheese, bell peppers, green onions and taste for seasoning adjustments. This dish can be made a day ahead and will taste even better as the flavors marry together.
Let's get the chicken going. Reheat the crispy chicken strips (these may not taste exactly like Grandma's, but they are especially great on this dish).
The waffles just need to be toasted. You can do this in the oven, in a sauté pan over direct heat or wrap them up in heavy-duty foil in pairs and place on your grill.
Putting this dish together is fun and easy. There definitely isn't a right or wrong way to layer your chicken and waffles. You may need extra waffles on hand when your tailgating crew starts eyeing the waffles and maple syrup.  I started my plate by just layering chicken-waffle-chicken-waffle-chicken before dousing the plate with maple syrup.
This is really a fun tailgate recipe and idea that your friends and family will be talking about for a while. With proper planning, you will be able to enjoy the tailgate as much as your guests.
Tweet us a photo of your tailgate@Chiefsand your Chiefs Eats dish could be featured onChiefs.com!*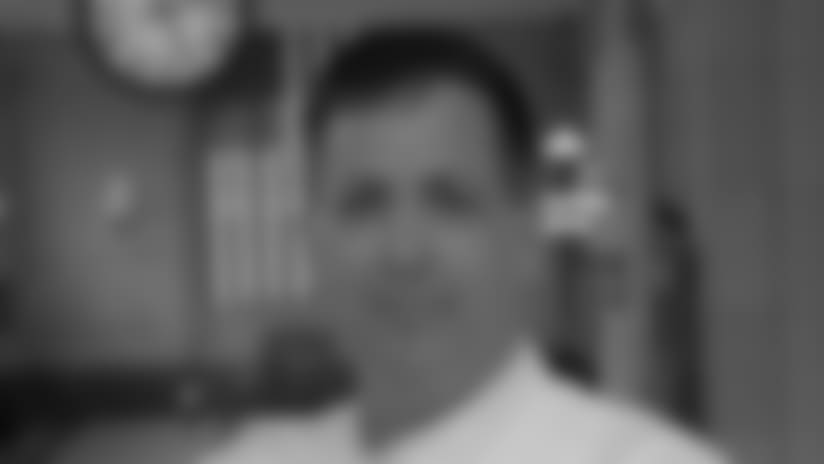 Recipe by Chef Mark Webster CEC,CCE,AAC,HGT - Retail Chef at Hy-Vee Lee's Summit West